Brendan Hall
Staff Writer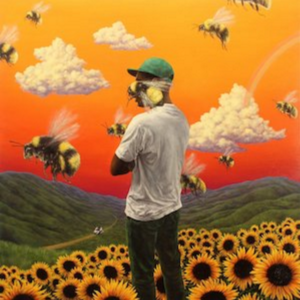 Tyler Okonma, better known as Tyler, The Creator, has been a dominant force in Alternative Hip-Hop for nearly a decade. He broke into the Hip-Hop scene with an in your face attitude meshed with no filter. His music portrayed a rebellious teenage angst that was streaked with an abundance of dark humor. All of these things were the reasons that his first two albums Bastard (2009) and Goblin (2011) were devoured by his audience. What made people relate to this album was the nuance he gave to horrorcore influence within his music. He always displayed himself as a person who did bad things but had good intentions.
Tyler's momentum from the Bastard and Goblin craze eventually led to his 2013 Album "Wolf". Wolf had similar elements but had incredible production and big-name guest appearances including Pharrell Williams and Erykah Badu. The versatility displayed in the album made it easily one of the most creative albums of that year.
The follow-up to "Wolf" was a disappointing effort that led to a disconnect between him and his fanbase. In theory, his follow-up, Cherry Bomb, should have been his biggest success. It had solid production, and even more notable guest appearances including Kanye West, Lil Wayne, and Pharrell. However, this album ultimately failed because there was a lack of Tyler's introspective rapping that made Bastard, Goblin, and Wolf such an incredible run. Instead, he tried to create feel-good aesthetics in place of heart-wrenching moments he previously had.
However, this year Tyler is back and he has something to say. His 2017 album, Flower Boy, finds the perfect balance between giving the personal details about life and smooth production. On this album Tyler opens up about his sexuality, loneliness, materialism, and also gives a sense of optimism.
The album's lead single, "911/ Mr. Lonely", is a pure example of the perfect balance between smooth production and introspective rapping. The song features vocal guest appearances from longtime friend and frequent collaborator, Frank Ocean. It also features an upcoming talent named Steve Lacy, who gave the song life in a memorable bridge. The track starts off as a smooth catchy song, but the beat eventually switches for Tyler to open up about loneliness in an incredible verse, "They say the loudest one in the room is weak that's what they I assume but I disagree. I say the loudest one in the room is probably the loneliest one in the room, that's me."
The formula that made "9/11 Mr. Lonely" a great track is also used on songs such as "Garden Shed" and "Boredom". In all three of these songs, there are incredibly soothing and upbeat productive carried vocalists on bridges and hooks.Estelle on "Garden Shed", Anna of the North and Rex Orange County on "Boredom" complement the soothing production with their smooth vocals to match. However, "Garden Shed", and "Boredom" both reflect personal matters about Tyler. "Boredom" is about him constantly being alone and desiring to do something with importance with someone important. "Garden Shed" is about Tyler's problem he had expressing himself without fear and may have been about his previous failure to come out the closet.
One of the most endearing moments of the album comes on the opening track "Foreword". Tyler starts off the album giving quotable one-liners consistently. It may have been one of his best rapping performances in his career and of the year. In these verses, he contemplates if he can get to his creative desires, and still be the face of individuality that he has been known for.
One of the most notable lines is when he asks, "How many cars can I buy till I run out of drive? How many drive can I have, until I run out of road? How many road can they pave, until I run out of land,"
Despite the seriousness, the album still offers moments where the subject matter is not as heavy and is just fun for the listener. A perfect example of this is on the A$AP Rocky-assisted, "Who Dat Boy". This song offers an energetic vibe that would make it ideal for live performance. Rocky and Tyler have a fantastic chemistry and the song can provide the listener with an image in their head of them recording this song hyping each other up to kill their verses.
The other more lighthearted tracks are "See You Again" with Kali Uchis (who he uses perfectly on the hook) and "Glitter". Each of these songs shows off Tyler's singing abilities which weren't seen before on previous projects. Each of them also has good structure and earworm choruses. However, "See You Again" offers a production that starts minimal and eventually becomes extravagant during Tyler's rapping. "Glitter" has production that mostly serves to complement his vocals in a minimalistic expression.
The album still mostly consists of subject matter that is deep into his personal life. "I Ain't Got Time" marks a significant part of Tyler the Creator's career where he opened up about his sexuality ("I've been kissing white boys since 2004"). What is notable about this is that most of the track does not mention his sexual orientation aside from that one line. He also states this boldly and proudly in the song giving it a sense of pride into of being a confession.
The final moment in the album where Tyler let the listener hear his reflective side on the track "November". The song centers around his nostalgia of simpler times he had with friends before the fame. He also shows paranoia on the opening verse worrying how his music and his image would be received by a mainstream audience ("What if my music is too weird for the masses? And only known for making tweets more than beats"). The song also makes a creative decision to include people, mostly Tyler's friends, describing what their "November" (essentially euphoria) was. This track is one of the best songs on the album and one of the most engaging songs of his career. However, despite the overall excellence of the album it still has its flaws.
One of these flaws is the track placement of the song "Glitter". Despite it being a well-executed song, the decision for it to come after a personal song like "November" gives it a lack of a transition. It would be smarter for "Glitter" to come before or after "See You Again" because of the similarities that these songs have.
The 3rd track, "Sometimes", should have completely eliminated because it is a filler skit that adds nothing to the album's experience and disrupts the flow.
And the final flaw to mention on the album is "Dropping Seeds" with Lil Wayne. The problem with the song isn't the execution it's the structure. Wayne had an incredible feature, but it came on a song that was less than a minute in length. This had potential to be on par with some of the best racks of Tyler's career if he had made this a full song instead of a short-lived interlude.
However, these minor flaws aren't nearly enough to ruin such a well-done project. Flower Boy shows immense growth as an artist and great creativity. It is by far his most focused work to date which makes it a contender for album of the year. This project likely cemented Tyler The Creator's legacy as one of the most endearing voices in Alternative Hip-Hop.