by Staff Writer Claudia Bonitatibus
The famed Japanese director and animator, Hayao Miyazaki, released what he claims will be the final film of his long and distinguished career on February 21st. Mostly known in this country for exquisite animated films like My Neighbor Totoro and Spirited Away that have a fantastical quality to appeal to children, this latest film, The Wind Rise, relies on more conventional storytelling techniques while revisiting themes that have appeared in many of his movies.
The Wind Rise is a biographical story set in Japan in the early 1920's and tells the real life story of Jiro Horikoshi whose dream was to become a pilot, but since he is blind in one eye, he is not able to fly a plane. After reading about Giovanni Caproni, an Italian engineer who designed bomber planes and a transatlantic plane to carry passengers, Jiro discovers his true calling is to be an aeronautical engineer. It was inspired by the story of the Japanese aeronautical engineer of the same name, who designed the Japanese fighter bombers that were so effective in World War II.  Miyazaki's family supplied parts for these fighters, so this interest in flying and explains why every Miyazaki film features flying in some way, but the artist is also using Jiro's story to explain the his own passion for beauty and human creation.
Since the story takes place between the two great wars, The Wind Rises deals with many tough issues such as the Depression, the Kanto Earthquake, tuberculosis, and war, making the themes of this final movie a lot heavier than Miyazaki's previous movies. But these are events that Miyazaki must have known about intimately and it feels that way.  While The Wind Rises may have a darker quality and is directed towards an older audience than his other films, it has a strong message. As his last movie Miyazaki is summing up his life's work.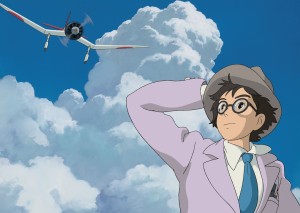 A theme in the movie is that an artist only has a limited time to create his best works.  His hero Caproni tells Jiro in one of his dreams that he has ten years and that he should use them well.  Jiro certainly does and creates beautiful planes. Miyazaki's life followed a similar trajectory and it is now time for him to stop.  He, too, has given us things of even greater beauty.