Amelia Benamara
Staff Writer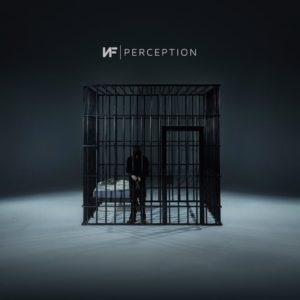 After Nathan Feuerstein's, better known as NF, 2016 album, Therapy Session, made its way up to number 12 on the Billboards and selling 29,184 album in the first week, he decided to drop yet another album on October 6, 2017, Perception. The album includes 16 tracks organized from "Intro III" to "Outro."
NF is best known as the "Christian Rap Artist" by his fans worldwide, although he only views himself as a regular person who happens to be Christian and makes music.
"I just make music. I talk about my life, I talk about my faith. I talk about positive things that I've dealt with that have taught me things and I talk about negative things that I'm dealing with. I wouldn't describe myself as that, but I am a Christian." NF told Idolator.
He was originally born in Gladwin Michigan and was raised by his father after his mother overdosed. NF's How Could You Leave Us, from his 2016 album, was dedicated to the death of his mother.
Intro III introduces the entire album with very familiar lyrics where NF mentions his mother, as well as his previous album, Therapy Session, "Therapy Session, was beautiful Nate, but I'm wondering what's coming next?" Compared to his last album, the first track automatically gives off the strong passion he expresses through the strength of his words emphasizing his vulnerability at the time. His tone also became much more serious with every piece of advice given in the lyrics based on his experiences.
Relating to this, Perception is more so his album, meaning he is the only artist in each song and video. Not many features were included in the piece, although it's not a major difference. Out of 16 songs, only "10 Feet Down" had a feature with the artist, Ruelle. Therapy Session and Mansion, 2015, involved many collabs which helped make the album more of a release of emotions album for Nathan Feuerstein. These features included: Marty, Jonathan Thulin, Fleurie, Jeremiah, and Britt Nicole.
NF also doesn't seem to do much singing in Perception, whereas his other albums included a major vocal side to the musician. After 2016, it's clear that this year's new music has a "take action" vibe to it. This, I hope is a motivation for his fans all across the world to empower themselves, as it does for me.
Perception is also an album that focuses on the proud success NF has accomplished throughout his long continuous journey. Green Lights and Dreams are a few of the songs his pride is powerfully confessed in. It is very clear that music is one of the most relevant components he, fortunately, has in his life. Multiple times, through lyrics and video graphics, Feuerstein admits that music saved his life more than once and he wouldn't be who he is if it weren't for it.
This is another album that shows the connections NF put together in all of the songs in his albums. Tracks such as Outro mention old lyrics, or even songs from previous albums, "Crying on the floor in the bathroom, staring in the mirror in my room, hands shaking, playing How Could You Leave Us through the speakers… etc." As expected, the 26-year old artist displays his mother multiple times in unique ways: a woman is seen smoking a cigarette, and a younger version of himself makes an appearance.
The relationship is an important ingredient throughout different parts in this album, although his status seems absent in the current year. This makes fans, including myself, even more, compelled to the lyrics he gathered for each project piece. Questions will definitely raise upon people who support him. About his relationship(s) Nathan Feuerstein wrote about lies that were told by his partner which seem to spread the two apart in the song Lie.
Relating to love in general, Feuerstein's song If You Want Love explains what any sort of relationship between people should consist and what he's learned as he grew up about his loved ones. Some of the lyrics include, "Back then I wish somebody would've told me, if you want love, you're gonna have to go through the pain. If you want to trust, you're gonna have to give some away… etc." His song, Remember This is his personal views of the world which affect those he had on relationships.
Overall, this album is another amazing creation from Feuerstein. Perception is similar in many ways to his previous album, however completely different in multiple ways which is what captivated every bit of my attention.
In opposite of Therapy Session 2016, Perception is very serious, more pride is reflected rather than emotions which gives the artist, Nate Feuerstein, a very bold appeal, motivating myself and hopefully many others to [do what?]. Gives me the idea that people go through different tragedies in life, yet at some point, we pick ourselves off of the ground to come back even indestructible.