Taylor Green
A&E Editor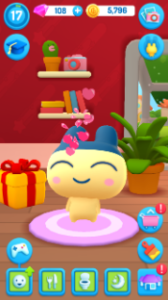 My Tamagotchi Forever is a smartphone adaptation of the popular 90's digital pet game. The app was released earlier this year on March 15th and has been making a wave in the Science Leadership Academy community ever since.
In the game, you are the caretaker of a creature starting from when it's a baby to its adulthood. You have to feed them, clean up after them, and keep them entertained.
Senior Ayala Silverman had a lot to say about Tamagotchis. As someone who owns two of the original egg-shaped devices, she is an avid player.
Silverman remembers her first Tamagotchi. "When I had my first Tamagotchi, I dropped it in the toilet." Silverman admits.
Silverman has had partial success in trying to raise two new Tamagotchis. "Recently I got two new ones. One of them matured to an adult already. I forgot to feed my other one so it died."
That is a common criticism that people tend to have about the original handheld game. If you forget about your Tamagotchi, you will see an 8-bit tombstone and ghost floating ominously in the background.
Silverman then talks about how the app can be more efficient. "I think that there are a lot of benefits to the app. It's easier to just carry it on your phone than to carry the original handheld egg." She shares. "It's simpler to take care of them too."
Silverman also has feelings about the smartphone adaptation of the game. "It's very nostalgic. I feel as though whenever a game gets revamped and put on a more modern device, it loses its charm compared to when you would just play it on the original console."
Recently, Senior Eric Valenti has been playing the smartphone version of the game. He enjoys it now, however, he was a bit apprehensive at first.  
"I first heard about it from one of my friend's Instagram pages," Valenti shares. "At first I thought it was weird, but I decided to download it and give it a shot."
Valenti also has experience with the game. "I played the original Tamagotchi when I was younger because my brother had one and he passed it down to me."
Valenti enjoys the new features on the app, saying that it gives the player more options. "On the original pocket game,
the graphics are very limited, which is annoying. There also weren't that many activities to do. For the app, you can actually play games with your Tamagotchi." Valenti shares. "They can even graduate and get a career once they mature."
Valenti also shares that he had the Nintendo DS game. "For the DS game, you could decorate the town and still take care of Tamagotchis. It was very similar to The Sims."
A new aspect of the app is that money is incorporated through the coin and gems system. You can earn coins by playing games or completing challenges with your Tamagotchi. However, you have to buy gems.
Valenti admits that he finds some of the aspects annoying at times. "Sometimes your Tamagotchi will want to do an activity that has gems and you can't afford it." Valenti shares. "Also, there are adds on the game that you have to watch if you want to receive a gift."
However, the game has the ability to create new friendships. "It's still a fun game. People in my friend group really enjoy it and gives us something to bond over and talk about." Valenti shares.
Overall, My Tamagotchi Forever has some pros and cons. Bringing back a classic inevitably evokes a sense of nostalgia among most people. However, some would say that the game loses its appeal due to its modernization. Yet, it still has the ability to bring people from different generations together.