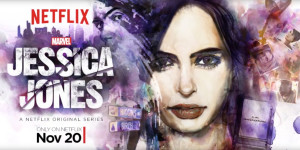 Dylan McKeon
Staff Writer 
Marvel's Cinematic Universe has made some of the biggest movies of this decade. Their success has forced inspired DC to come up with their own movie universe, introduced a new generation to their comics, and made the Guardians of the Galaxy popular. Despite this  success, critics were divided as to whether  they could repeat their superhero team up formula on Netflix with 5 series focused on gritter street level heroes.
The first of these series, Daredevil, was released last April and holds a high rating on Rotten Tomatoes with a 98% favorable rating.. This set the bar even higher for  Jessica Jones, the next show in the series. However, now that it's out on Netflix, it's clear Jessica Jones succeeds to bring a story just as good, if not better, than Daredevil, using its characters to look at a different kind of hero with a noir tone. The show has also been noted for tackling the subjects of rape, trust addiction and more in a mature and thoughtful way.
The plot of Jessica Jones follows the titular heroine (played by Krysten Ritter) as she works as a private detective discovering that an enemy from her past Kilgrave (David Tennant), is alive. While Jessica has super strength, she's helpless against Kilgrave, who has the power to make people do whatever he tells them to. Additionally, Jessica needs Kilgrave to make a confession, forcing her to find a way to not only to capture him but to get the information needed.
Jessica proves to be a great character as well. She unlike almost every other hero in the universe so far. While she does have super-strength, she mostly uses it in her job as a P.I. to intimidate people- she's not into saving people, she's just trying to make a living. When she decides to go after Kilgrave, it's not because she wants to be a hero, but a darker combination of fear, justice, and revenge.
Kilgrave is without a doubt one of the MCU's greatest villains, due to how his abilities are explored.  He tends be less than moral given that his powers gave him the ability to get anything he wanted from the age of ten. Because of this, he very often doesn't see any problem with how he's using his powers and can compel people to murder or torture themselves and it comes so natural for him to control others to the point where he has trouble talking to others when he doesn't use his powers. One of his most often commands is simply to have people smile for him, showing how sad and deprived he is.
For the most part, Jessica is an example of an average person with powers who doesn't try to be a hero,and the show's structure reflects that. The show has fewer fight scenes then the other Cinematic Universe shows and uses this space to focus on the characters.
The show is very mature, and has some points where the violence seems a bit too excessive, but this hardly takes away from the series. It's adult themes transcend the superhero genre and make it something bold, new and vastly original.The mature theme add the the realism of the world and makes Kilgrave one of the most terrifying villains on the small screen, due to his complete control over others.
In conclusion, the show reaches great success with great use of characters and intense moments. The finale in particular is perfect, bringing in Clare Temple ( Rosario Dawson) from Daredevil in a excellent moment that helps connect the two series. It has yet to be determined if their will be a second season but if there is it will likely happen after The Defenders miniseries which will be released around 2017.