Jayla Wright
Copy Editor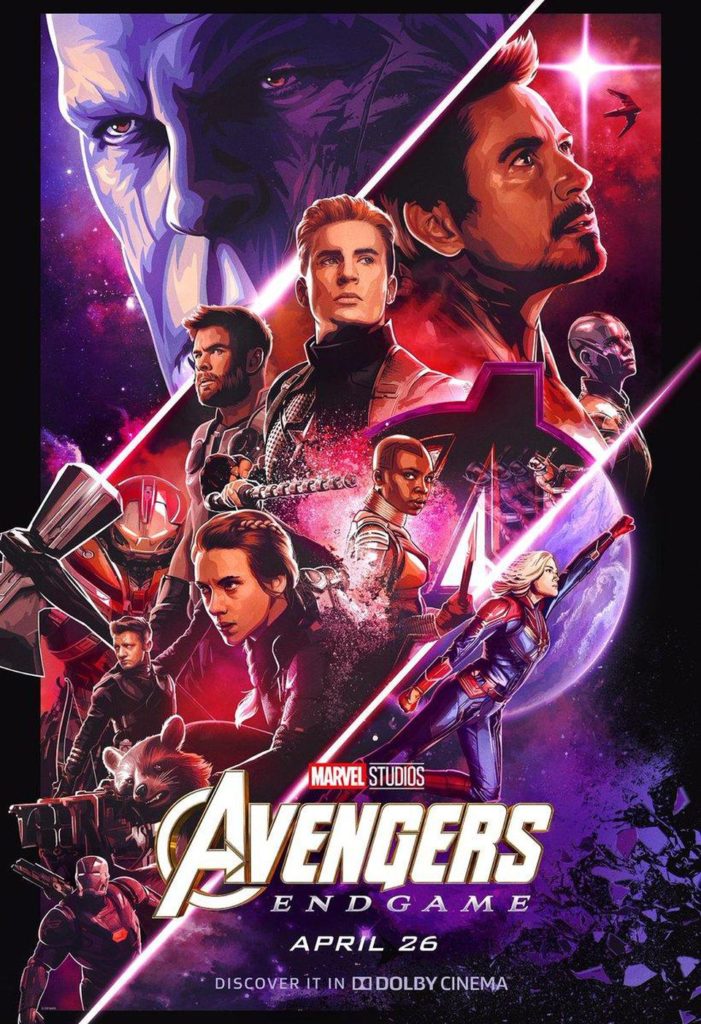 Avenger: Endgame takes place directly after the events of Avengers: Infinity War, in which a purple alien named Thanos eliminates half of the universe's population with a single snap. Those who survived are left with the rest of their lives to fulfill, only now they're trying their best to move on from the pain of losing their loved ones.
When I went to see, Avengers: Endgame there wasn't an empty chair in sight. Avengers movies tend to draw in big crowds, but I've never seen one as big and emotive as the one for Endgame.
This particular Marvel movie is becoming a growing success. At the time of writing this, it has become a box office hit, ranking in at second place, with Avatar remaining in the lead. This development isn't too surprising when considering that Marvel films gain more popularity with each release. Each film comes with a new wave of fans that strengthen the overall love of the franchise. This can be observed during the first two weeks of a film's release where theatres tend to be more full.
I was used to people clapping and cheering with the occasional loud whisper to their movie companion. However, Endgame watchers were a different breed of moviegoers. They were more expressive and loved to yell their unfiltered opinions. Yes, Blockbuster movies tend to get this type of reception, but pretty much every scene made the crowd react. As the movie progressed, I could feel the rising excitement from waiting for its release bubble over.
Now, if you want to experience that too I suggest you run to the theatres quickly. The rest of this article will include spoilers.
ENDGAME SPOILERS BELOW
I would say that Endgame was a satisfying end to the current collection of movies in the Marvel Cinematic Universe. It did a good job of utilizing most of the characters' emotional development to move the plot along.
Some time after Thanos' snap, the remaining Avengers are all doing whatever they can to move on with their lives. Tony Stark has started a family, Hawkeye is out doing vigilante work, Black Widow is trying to command disinterested superheroes, Steve Rogers holds a support group, and mostly everyone else is moving into a their own life routine.
The exception to this would be Thor who has neglected his rule over Asgard and has instead subjected himself to eating, drinking, and playing Fortnite. This characterization of Thor stems from Thor: Ragnarok, where he was shown as more humorous and silly. This interpretation of Thor works well in Ragnarok, but in Endgame I found that some moments of his could've been stronger if they toned the jokes down.
Now, I don't think there's an issue of having a more light-hearted Thor, as a lot of his scenes were funny. This seems just a issue that stems from the MCU having multiple directors. In Endgame's case it seemed like the Russo brothers tried to work with the version of Thor that was made from Taika Waititi, however for them their concept was not as strong.
Despite that, the film was filled with small moments that made the film memorable. Such as any of the oddly Bruce-Bannerfied Hulk scenes, when Ant-Man reunites with his daughter, and when Tony Stark talks to his father after going back in time.
Bigger moments impacted all viewers. Steve summoning Mjolnir, Tony Stark's final scene, and Steve going back in time to reunite with his old love, Peggy.
I found that ending on these ideas was satisfying. I was sad to watch a few characters go, but I found that this was the best way to end their narratives. It also opens up more opportunities for future Marvel movies.
Avengers: Endgame is not only a farewell to characters we love, it's also an introduction to new stories we'll cherish.