Jeremiah Butler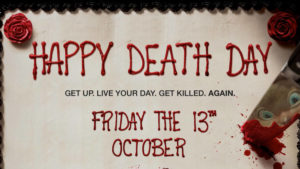 Staff Writer 
Jason Blum's [The Producer] and Christopher B. Landon [The Director] new "mystery and thrill" film, Happy Death Day is Number 1 at the box office over its first weekend with a total of $26.5 million from 3,149 theaters. I went to 40th Street's The Rave Cinemas theater and was expecting a lot from this movie.
The movie starts out with Tree Gelbman [Jessica Rothe] waking up and going through her birthday. At this point in the story she has just woke up in Carter Davis's [Israel Broussard] dorm room and is recovering from a late night at a party, she's not in a good mood. While going to a surprise party her friends planned for her, she gets killed and wakes back up again. Then the cycle of being hunted then killed and waking back up again starts. Through each death, she doesn't realize at first why this is happening and Tree's growing friend Carter helps her a little bit to see who is her killer.
If you went to the movies and thought you were going to be scared out of your life, this movie is not for you. It was more mystery than the thrill and no horror at all. If you were to make a list of October's scary, teeth rattling, keep you up at night movies then Happy Death Day would be somewhere near the bottom.
While watching the movie the audience made small remarks like laughs and gasps of disbelief of what was happening. I was expecting for screams and "Don't do it" throughout the theater, but there was none. Delivering just that from the movie would have made the movie just a bit more engaging because everyone is into the movie and are so into the movie that they try to say things to the actors. Then generally it's funny when someone says out loud what you were thinking about the movie.
Many can argue that Happy Death Day is fine just the way it is. It did make money in a lot of theaters and did create mystery throughout its plot, but the thrill was brushed over in a way, that could've been more meaningful to the need of fear I'm sure most were looking for.
"We wanted the movie to be scary, but we also felt that because of her situation and because she's trapped. She's trapped in the same day and it, therefore, becomes predictable that in the effort to solve her own murder she also can start manipulating things and that really lent itself to the humor I think angle of it all because she doesn't care anymore she can do whatever she wants," said Christopher in an interview with FilmIsNow Network.
There are movies that relate to the same plot Happy Death Day portrays. For example, Michael Tiddes [The Director] comical Netflix Original film, Naked. It's Rob Anderson's [Marlon Wayans] and Megan's [Regina Hall] wedding day and Rob has to get this day perfectly right for his wife to be.
Both "Happy Death Day" and "Naked" are films that show how reliving one special day can change the overall outcome of how that day turns out for them. Imagine reliving a day like your birthday or the first day of school or a first date. At first, you're annoyed and you panic because this is happening to you, but feeling this way I think is something that happens when your days are repetitive. Going to school, going home, doing homework, sleep. Going to school, going home, doing homework, sleep.
A merry go round of things that all happen with no change. I think both movies inspire the viewer to change it up and switch the leading events to get a better outcome. In the beginning of both movies, Tree and Rob had to redo a birthday and wedding day, because the outcome of each wasn't what they wanted.
The movie currently wasn't scary or made you stay up at night, but it did deliver some controversial thoughts about how we spend each day, after all a sticker on Carter's dorm room dorm says, "Today is the first day of the rest of your life."