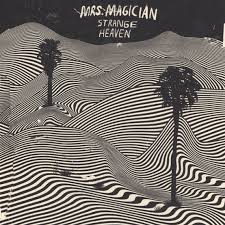 Aidan Williams, Staff Writer
Recently, I stumbled across Strange Heaven, an album from 2012, by the Post-Surf, California band, Mrs. Magician. I have to say, I was very surprised at how good the album was. As a fan of the grungy, sludgy, wave-driven Surf revival, I was surprised I'd never heard of this band. After listening to this album, I am almost ashamed that I hadn't found them earlier.
For the first time in a long time, I found an album on which I enjoy every single track. I was very impressed with the diversity they managed to fit into the album without sacrificing the signature Surf sound. The album has thirteen tight tracks that blend back to back in any order, and it's an album that I've spent a lot of time listening to recently.
The album isn't groundbreaking by any stretch of the imagination. In fact, the roots of the album are very clear. The songs are reminiscent of Dick Dale and Beach Boys, while taking inspiration, sometimes blatantly, from 90's grungy punk rock, like bands such as Nirvana, with at least one direct quote from a Nirvana song. However, while not original, I think Mrs. Magician understands that there's nothing new under the sun. They take what has been done before, and do it in their own way.
It isn't a new album, but it's a good album, and it seems like it's flown under the radar. As a fun, punky, grungy album, I think it does what it does very well, and is a pleasure to listen to all the way through. I look forward to hearing more from this artist, and would definitely recommend this album to anyone interested in the genre.