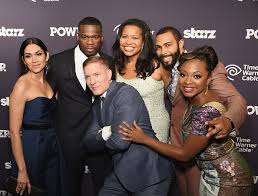 Staff Writer Micah Henry
The first time we saw Ghost he was in a fancy suit going to a nightclub, then all of a sudden he was a man in the back alley way of the club giving orders to people who looked like henchmen, to kill a man. Okay slow down, from nightclub fancy pants, to killer? That's James St. Patrick for you. A man living the dream. He has a beautiful wife, a lovely penthouse, children, leader of a drug ring, owner of the nightclub 'Truth,' quite an ironic name if you ask me, a great reputation by those who truly know him, a brother for life from his childhood, Tommy, and of course, he has a lot of money. What else could a man want? Power.
From the first few episodes of season one, we can see how ruthless, yet dedicated Ghost is to his two jobs. His closest friend, Tommy, is all about the drug business. Leading up to the eventual finale of season two, every episode it seemed, Tommy was becoming more and more fed up with Ghost not being focused on just the drugs, not how he was in their younger days. Tommy has nothing else except the drugs and the money and his friendships. Until, he meets one of Ghost's nightclub workers and they eventually fall for each other, adding a whole new dimension to the plot.
Before we get to the finale of their friendship, we must tackle the idiocy of Ghost and pursuing his childhood lover, Angela, and begins to have an affair with her. Angela, if I didn't mention yet, is on the police force trying to find the top supplier for Ghost's drug ring, who is Ghost! So Ghost is having an affair with someone who is trying to put him behind bars, while trying to keep the affair hidden from his wife and children, oh, but his driver, Shawn, he knows it all but keeps his mouth shut. To add, his is managing a nightclub while dealing with another rich nightclub owner who is trying to steal his nightclub and business away from him, while attempting to maintain his relationship with Tommy and help run a drug ring in New York City. James is a very, very busy man.
Beyond that, it would take a very, very long time for you me to write everything out and piece everything together. You just have to watch and thoroughly enjoy the show on your own time. However, here's a quick Season two finale overview: Everyone wants Ghost dead. Now of course you want to know why, so watch the show! Season three could be an absolute hit, but it could also be a bombshell to Power's ratings, for the ending of season two leaves season three open for so many opportunities. Everyone, including Tommy, Kanan, oh the guy who tried to kill Ghost and was killing off his connections the entire movie but Ghost thought he was on his side until it became annoyingly obvious he wasn't, the police, Tommy's lover, and maybe even Ghost's soon to be ex-wife. Avid Power viewer, Tomy Fleurine, had this to say about season three," This season is going to be amazing, there are so many directions it could go. The only problem I have with it so far is it's taking way too long to premier." The season is going to be a blast, no matter which direction it goes. If this article hasn't prompted you to watch Power, if you don't already, I haven't done my job, but I am pretty sure I have. Trust me, you won't be disappointed, and you especially won't be disappointed with Power Season Three.