Lauren Nicolella
Staff Writer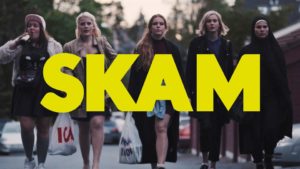 Skam is a Norwegian teen drama show that involves issues of religion, sexuality, relationships, and mental illnesses. It began in 2015, but their fourth and final season was released in June of 2017. Each of the seasons revolves around an individual, going deeper into their life, relating their problems to the whole group of friends that eventually forms during the first season.
   These seasons revolve around Eva (Lisa Tiege), Noora (Josefine Frida Pettersen), Isak Tarjei (Sandvik Moe) and Sana (Iman Meskini). They all are somehow tied into each others problems, whether it is to support or reassure so that everyone is at a point where they are stable enough to continue on through school.
   My friend Charlotte recommended me to watch the show, and I kind of blew it off for a while until this summer when she pushed for me to try it again. Needless to say, I got hooked. When I first started watching, I had no knowledge of what it was about, and eventually caught on to the way it was being led.
       I really enjoy how the directors used actual teenagers for the cast, them being 17-18 when it first aired. It gives an authentic and more relatable aspect since they are not using actors who are already in their late 20s. The show is apart of their teenage years and the drama is very interesting and kept me intrigued when I was watching it.
     My personal favorite is season two, having a focus on the character Noora and how she slowly adapts to her new group of friends and potential lover. Everything is so incredibly adorable, with how there is a growth in not only character but what happens among the group of friends.
    During episode 8 of season 1, (without giving any spoilers), Noora's boyfriend William was not interested in her friend who was desperate to be in a relationship with him for all of the wrong reasons: money, his looks, and because he was older. At first Noora would argue and avoid William, but eventually, he would not leave her alone due to the fact that she stood up for her friends and for what she believed in.  
   The scene where she first has a one on one interaction with William was when Noora was cheering up her friend Eva, by singing Justin Bieber and he walks up behind her to ask her out. She basically dismissed him and made him leave, and that was when it all began. Compared to his relationship with her friend who was interested, there was a very intense interest and a will to fight for Noora to make her date him, but it was in a romantic way.
  Something noteworthy that I noticed was the fact that hooking up with others is such a big deal, especially with the constant party life each individual is involved in. Everyone tries to get with older girls and guys so that they can get more attention to themselves and their runs buses. These Russ buses are for graduation, and everyone parties on them and tries to gain sponsors so more people are involved on your bus instead of someone else's.
   Everyone's sense of style is very enjoyable and I was kind of surprised that even the extras seem to have great taste in clothes. These outfits consisted of layering cute winter jackets and sweaters, as well as having a 90's influence with boots and high waisted blue jeans.  I actually found articles and tried to keep what Noora wore in mind while I was shopping because I admired it so much.
   Overall, I think someone should watch this if they are interested in a teen drama and if they are into foreign shows. Skam is a great example of an introduction into shows that are not from America or are not in English because it has a great storyline and is super relatable.