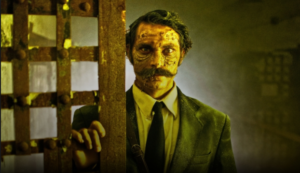 Sanaa Scott-Wheeler
Staff Writer
Want to get scared?
Eastern State Penitentiary is a Philadelphia landmark located at 2027 Fairmount Avenue. The old stone prison was first built in 1829 and used until 1971. On the inside are cells and long cold corridors.
Every year, when Halloween comes around, it is transformed into a haunted house, known as Terror Behind The Walls.
People I know who have gone in the past raved about the experience. This year I decided to go with a group of friends to see what the hype was about.
The attraction price ranges from $17 to $45 depending on when you take your tour, and how big your group is. The steep price definitely lowered my excitement to attend. Who wants to pay $30 for an experience that only lasts 2 hours? Not I, sir. There is a chance you will not be scared and will have wasted close to $30 (without a discount). What's scarier: Terror Behind the Walls, or wasting money? If I am paying that much I better be dead or scared to death at the end.
Before entering, you have the option to buy a glow-in-the-dark necklace that enables the staff members dressed as zombies to bring you into new rooms, separating you from your group, which is scary on its own. However, when you buy the necklace it is not guaranteed that you will be touched. During your tour through the prison at no time are you allowed to touch the staff members disguised as characters inside or outside.
I personally got freaked out at different times while going through the penitentiary. Some things seemed so out of the ordinary. There were a few clowns that would pop out whenever you are least expecting it. There was never a dull moment, so stay alert at all times, even if you think you know everything coming at you.
Imagine this: you and your group strut through the prison smiling, "We got this!" "Nothing scares me," someone says in the distance. You think,'I got this'. You reach into your jacket pocket and feel where your $30 once was, your stomach drops, you already spent money- no turning back.
Your eyes gloss over the path ahead, you spot a red river spilling down the walls, the lights flashing, seconds apart, something's moving down the hall. What is it? You walk slower, your group passes you, only a few steps ahead. It's a man, he's limping, clothes torn, but why? You squint to see, trying to make out his features, he creeps closer and he sees you before you have the chance to run. He grabs you, SNATCH, you scream a friend's name, they hear you but they can't see you. The zombie grips his hands around your throat, and starts to growl, eyes watering, the cool wind blows through the prison, but his breath is hot. His face People magazine width from yours. He spots another person and lets you go. You run to join the rest of your group.
I thought the acting could be a little more scary, while walking through some of the smaller hallways if the zombies didn't grab you they would stare at you which didn't have much of an effect. It could have been more interesting if the undead/ various other creatures chased you through the prison, so that way you have to run for your life.
All in all, the experience had its perks but also things it could improve upon.
I would say the admission fee should've been $23 so it's affordable for everyone but no one feels like they're getting scammed.