Naima DeBrest
Staff Writer 
Imagine paying almost $10 to sit in a dark room with 100 strangers for 2 hours, simply for fun. In theory, the idea of going to the movies sounds less than desirable and very awkward. However, the idea of going to the movies has been engraved in American culture since the early 1900s. Americans have made it a common family activity to see the newest blockbusters in theaters and people have even waited hours in line to see the long-awaited features. Even though this tradition seems so important in the eyes of our culture movie theaters have taken a serious hit in the last couple of years. The summer of 2017 was the worst attended season in 25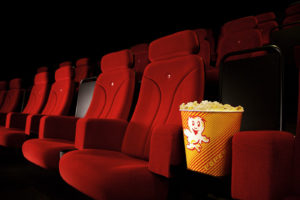 years, leaving movie making and hopeful American wondering if movie theater will be around in the coming years.
Even though the business of movie theaters have slowly begun to decline the amount of movies watched in the United States has stayed at a constant high. People still love movies and the creative outlet that they provide is highly regarded and appreciated. In a survey of SLA students, 11 percent said that they had seen a movie in the last month, 66 percent said that they had last seen a movie in the last week, and 22 percent said that they had watched a movie last night. However, in that same survey, 77 percent of said that they had been to a movie theater in the last month. At first glance, the math doesn't add up. How have people been able to watch movies every week but not go to the movie theaters?
The answer to this lies in another innovation of our society: movie streaming services. These services such as Netflix, Hulu, On Demand and Amazon have made it easier than ever to watch a movie in an instant and they have done it for a fraction of the price. Home has been fully equipt with personal movie theater whether it be on a television or on a computer screen.
People fail to realize that being in a movie theater is equivalent to being in the movie itself. The surround sound allows you to hear every word of the characters. The vulnerability of sitting amongst strangers is exhilarating. The smell of freshly buttered popcorn engulfs your nose. This period is a crucial time of self-reflection on how people interact with what society presents to us. You sit in a room and laugh and cry with countless strangers. This is an important human connection that must be kept around.
Based on a survey the main reason that people, specifically kids at SLA, don't go to the movies on a regular basis is that of money. I recognize that we are kids and the shelling out money every month might not be an option, but this problem is not just affecting kids but adults too. When movie theaters first opened the ticket prices averaged at a humble 7 cents. Now tickets can run you upwards of 10 dollars. According to data from the Motion Picture Association of America (MPAA) ticket prices have risen 25 percent in the last 10 years and 60 percent since the year 2000. There is no denying that something has to be done about this problem if the movie theaters want to remain in business.
In conclusion
movie theaters are vital institutions in American history. They have provided almost a century of joy and continue to cultivate imaginations across the country. In the long run, I believe that movie theaters should be kept around in order future generations to see.