Eric Valenti
Jayla Wright

A&E Editor
Copy Editor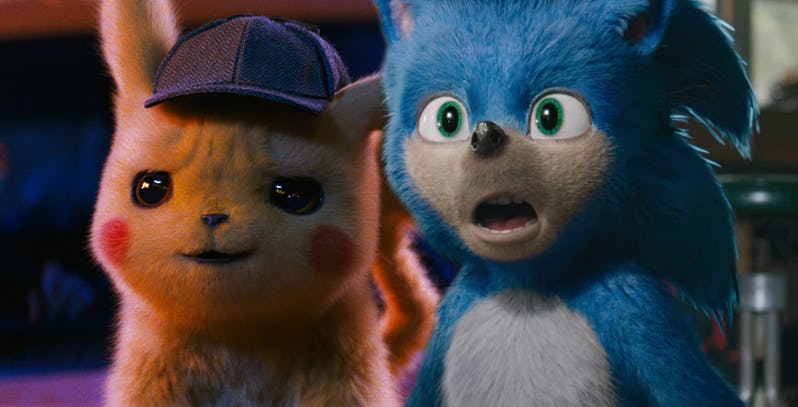 Detective Pikachu

On May 10th, the Detective Pikachu movie will come out. I am super excited to see the film mostly because I am a huge Pokémon fan and kinda geeked out when I heard about the movie. But I was a little skeptical when I saw the first trailer. In the past, films that have used CGI animated creatures and asked real-life actors to conversate with these creatures usually ends up being a total dumpster fire. Mixing animation with real life can sometimes be a little unappealing to the eye and its difficult for the audience to bond with something that is not real.

At first, the trailer definitely seemed slightly off-putting. The textures used for some of the Pokémon were done tastefully and made them look like mythical creatures. Pikachu, for example, looked pretty good. I thought that the animators did a good job at making Pikachu look both cute but also still make it look real. However, Pokémon like Mr. Mime had a more skin-like texture that made me want to gag a bit because of how leathery and artificial he looked.

Besides the animation, I appreciated that the film used a lot of new actors. The main character's (Tim Goodman) actor has been in a few big name films, such as Jurassic World: Fallen Kingdom and Paper Towns but in both of those films, he played quite small roles, so hopefully, this film will help improve his career. There was a good blend of new and experienced actors. Choosing Ryan Reynolds to voice Detective Pikachu is both hilarious and really fitting. They took what appears to be one of the cutest characters in the gaming world and gave him the voice of one of the crudest, yet lovable actors. Might I just say that this is: perfection.

From what I could gather from the trailer, the plot seems to be about Tim Goodman, a young kid who lives in Rhyme city. Due to mysterious circumstances, Tim's father goes missing and with the help of Detective Pikachu, hopefully, with Pikachu and some other friends and Pokémon Tim will be able to find his father. I think a simple plot like this really allows the audience to get more invested with the extravagant world building that we get to see in the trailer. Mysteries always keep people's attention so I think that a lot of people will come whether or not their Pokémon fans.

I have high hopes for the Detective Pikachu movie. The movie may end up having a lot of flaws and may not do well on Rotten Tomatoes but ultimately I think audiences will definitely appreciate it. There has never been a live-action Pokémon film and there isn't a lot of good live-action films in general. I am super excited to see this film and I definitely think this is what good CGI look like. Grab your magnifying glass and your Pokémon plush, and give Detective Pikachu a chance.

Sonic The Hedgehog
I was idly scrolling through various social media apps before I was hit by a wave of blue furry men. Figuring that the trailer for the upcoming Sonic The Hedgehog movie had caused all of this uproar I decided to check out the trailer myself before making any judgments.

The trailer shows a cop helping Sonic escape the clutches of the government and Dr. Robotnik who want to use Sonic's powers for evil purposes. The trailer was pretty routine for an action movie. There was comedic moments, dramatic scenes, and Coolio's "Gangsta's Paradise" playing in the background (Yeah… that was an interesting song choice).

As for the look of the speedy hedgehog. Sonic's hands, feet, and body seemed awkward, but I overlooked this fact as I believed the rest of his design couldn't be too bad. That thought lasted until I saw his teeth. Gah! It's best described as if there were a human's teeth stuck onto the face of a semi-realistic hedgehog. His overall look gave the impression that there were attempts to make him cartoony, but over time he was given more and more realistic traits until he was entrenched in uncanniness.

What saved the trailer was Jim Carrey's role as Dr. Robotnik. Despite how bizarre the film seems to be, I believe Carrey will put his all into it. He seems to be having fun playing the scientist and the trailer has an after credits scene where Carrey looks more like the familiar Robotnik from the Sonic franchise.

When I came back to social media I saw the usual fans upset about the trailer, but also artists making fanmade redesigns of the movie's version of Sonic. They all looked great, but it made me disappointed that fans did better than the movie's producers at capturing the right look for the character. It gave the impression that the movie did not get enough passion as needed. Which is a shame, as live-action CGI films tend to not do well and this one could've strived to break that mold.

There's added humiliation to the movie's negative reception when you compare it to the Detective Pikachu. Both movies are live-action CGI, but only one has made something with love and dedication. The current Pokémon movie is an example of what the Sonic movie could have been.

After facing backlash, Sonic The Hedgehog's Director tweeted on May 2nd, "Thank you for the support. And the criticism. The message is loud and clear… you aren't happy with the design & you want changes. It's going to happen. Everyone at Paramount & Sega are fully committed to making this character the BEST he can be…"

This decision sounds good in theory, but the movie's release date hasn't been changed, leaving animators 6 months to create improvements. All in all, this seems like a recipe for disaster.

If you're curious towards how Sonic The Hedgehog will pan out, see it in theatres November 8th. But I won't blame you if you do literally anything but that.