Taylor Green
Staff Writer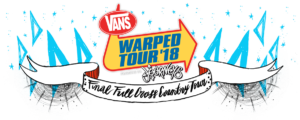 The official lineup for the final run of Vans Warped Tour was announced March 1st, and it has caused quite a stir on social media.
I couldn't wait for the lineup to be released. Days leading up to the announcement I had checked almost everywhere for leaks like I had been able to do in previous years. But to no avail. The lineup was kept under wraps this year.
When I got home at 6 o'clock on March 1st, a tweet notification from the official Vans Warped Tour account appeared on my phone. I've never clicked a button so fast in my life.
I searched the numerous names for bands that were familiar. Those bands were Bowling for Soup, Sum 41, All Time Low, The Maine, Black Veil Brides, and my all time favorite Falling in Reverse.
At this point, I think that it was safe to say that I was stoked for this lineup. Seeing the tour bringing back so many big names was nostalgic for me. The angsty pre-teen inside of me was so excited.
Although some of my favorites were going, I was disappointed to see that other bands like Alkaline Trio, Greenday, Sleeping with Sirens and My Chemical Romance wouldn't be coming. I thought that maybe for the last Warped Tour some of these artists would come to at least one show for a final time.
Nevertheless, I didn't let that discourage me. I decided to branch out and expand my music tastes.
There are over fifty bands that perform at Warped Tour, so of course, I didn't know all of them. I chose a few groups that I had heard about either online or from friends and give them a listen.
The first band that I listened to was Waterparks, a pop-rock band from Houston, Texas. They opened up for All Time Low while they were on their Young Renegades Tour and I had heard good reviews.
I tried listening to Waterparks' album Double Dare, but I couldn't get through it. All of the songs sounded like the same jumbled mess. Their music had the same stereotypical "boy meets girl and falls in love" sound to it. I decided that I wouldn't waste my time trying to see them live.
Another band that I decided to check out was Don Broco. They're a rock band that formed in England in 2008. Their single  "T-Shirt Song" was the first song that I listened to, and I instantly fell in love.
"T-Shirt Song" is a perfect representation of what can happen at concerts with its adrenaline pumping lyrics "They're saying there's one song left/No time for no regrets/I take my T-shirt off/Swing it around my head". From live videos that I saw, they're very energetic live performers and they sound even better than in the studio.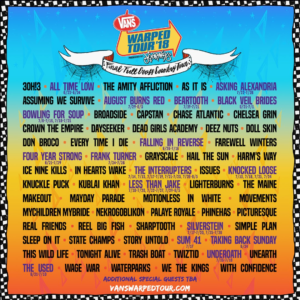 I also started listening to the post-hardcore band Movements. I recommend their entire debut album Feel Something. All of the songs are melodic and soothing, yet they provide a more emotional side by using spoken word in their songs "Vacant Home" and "Submerge".
I suggest that if you want to do something memorable over the Summer, you should definitely go to Warped Tour and check out some new up and coming artists or just go for the ones who are staples to the alternative community.
Overall, I have a feeling that this final Warped Tour is going to be good. With different bands varying from eras and genre, there's something for everyone to enjoy and to remember the tour by on a high note.