MeyMey Seng
Staff Writer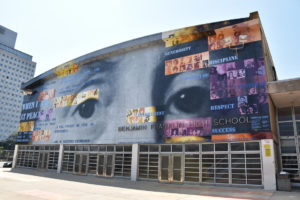 As a selective admission school, SLA experiences far fewer student transfers than the average district high school. The general expectation is that once you get into SLA, you're going to stay until graduation unless something big happens.  Challenging this reputation is the rumor that more students may transfer out before SLA moves to Ben Franklin High School in the 2019-2020 school year.
Will this change actually bring on more transfers?
Last year, even before the move was confirmed, there were twenty-one transfers out during the school year, and sixteen new students admitted. Although, when students transfer out it opens up positions for more students to be able to transfer into SLA. So far this year, twenty-two students have transferred out and twenty-three have transferred in. Reasons have included studying abroad (where students re-register upon returning), disciplinary reasons, family moving, and more. Math Teacher and Roster Chair Sunil Reddy do not think that there's much truth to the rumors.
"I don't think we've seen the data change you're probably wondering about yet; the news of the move might impact the transfers in/out next year," he said.
"We might see a small increase in the number of transfers out, but probably at the younger levels rather than students who have been here for a couple years. I don't think the number of transfers out will be drastically different."
With the move, another change that may occur are the students who are looking to apply to SLA. When asked on how the move might affect the transfers of students, Amelia Benemara was not too concerned.
"I haven't heard of any official transfers yet, but I heard some parents may have trouble with it because it's a move to a different location," she said. "I honestly wouldn't mind because I'm relieved that we're getting a new building. There are new opportunities that come with it that we will benefit from as a school."
When asking her little brother, seventh-grader Rayane Benamara, said "I'm worried about walking to the subway, but it's not that far. It's only one more stop from SLA on the Broad Street Line."
Addressing the rumor, it is difficult to tell for sure whether it is true. To be able to accurately see the move does make a large difference, we would have to compare the numbers of transfers in and out of SLA next year to the previous years.