MeyMey Seng
Staff Writer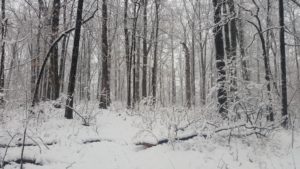 Going into Spring, people would typically expect positive stories of the weather becoming warmer
— or maybe negative ones from people with allergies.
Well, the reality for Philadelphia is that spring has not truly arrived. Instead, we have been hit with snow storms, causing what some would call a Nor'easter.
These random bursts of snow mean that getting from SLA to both the students' and teachers' homes can become difficult. To avoid the dangers that the excessive snow would cause, March 7 and March 21 were declared as snow days. Along with that, schools opened with a two-hour delay on March 8 and March 22.
Even with the snow days and half-days that are determined by the Philadelphia School District, they are not able to always accurately determine when to make the call.
A prime example of this situation was on Friday, March 9, when there was an intense snowstorm in the afternoon that made transporting home very difficult. Since the school district did not arrange for an early dismissal, the students and teachers at SLA had a tough time going home.
"It was dangerous and funny at the same time. I had to take the subway and it took me 30 to 40 minutes instead of 25 to 35 minutes to get home," said Freshman Margie Castejon-Gomez. "My friend and I were trying to walk, but the wind will push us and the sidewalk was slippery."
"I slipped, my foot constantly got stuck, and I had to pick up my sister a few times because the snow was really high," said Freshman Kevin Davis. "It was really dangerous for us because it's a big tripping hazard."
Sophomore Alina Seing also had trouble getting home. "It was really hard for my dad to drive my brother and I to West Philly, so that was two hours that it delayed us."
"I almost died when the snow came because I forgot my jacket. I didn't know it was supposed to snow later in the day so went through that entire blizzard in just a hoodie," said Junior Matthew Milligan.
"It was pretty fun running in the snow with my friend. There was a thrill and excitement because we didn't know whether the bus would come or not," said Junior Ameer Johnson.
"I was stuck at 30th Street Station because they canceled all transportation so waited two hours for my dad to come," said Senior Trey Matthews. "Needless to say, it's not fun having to lay on the floor when all the seats are taken when you're in damp clothes."
"There were detours so I had to go to another bus stop a few blocks away. There was one bus that passed and it was cold, so I was like screw it and literally had to chase it down. I wish we had a half-day so we could have gotten home earlier," said Senior Hayley Barci.
"The bus just didn't come on the way home and that was very frustrating. I ended up having to take a Lyft which delayed me forty minutes," said Math and Special Education Teacher Jonathan Estey.
So despite it now being Spring and the weather withholding an unexpected pattern, students and teachers should make sure to be on top of the weather updates. Whether or not it may seem like it will snow, as seen from above, anything can happen.