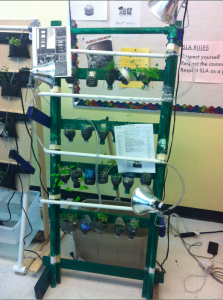 By Kristi Bezhani
Staff Writer
When SLA sophomores visited Drexel's 22-foot wide, 80-foot tall Biowall, it inspired them to build their own.
The moment of entering a room with an immense wall covered in tons of greenery, has caused a lot of commotion amongst SLA sophomores.
"The biowall at Drexel looked so earthy and inconceivable," said Sophomore Jalen Smith. I had never imagined the existence of an entire wall consisting of tropical plants. It was like a jungle stepping inside, the air was warm, there was lots of greenery, my class and I quickly got inspired by it."
Another inspiring trip was to the Grunman Greenhouse. The Grunman Greenhouse, located at Broad and Arch streets, is a wrecked navy airplane which has been turned into a greenhouse to provide herbs and greens for local low-income families in Philadelphia.
"There were living plants inside of this artfully looking plane, that doesn't happen everyday," said sophomore Victoria Yarborough. "I wanted to make something like that."
Another key part of the inspiration for the bio-walls was Earth Day, which reminded students of how they should nurture earth. This made it even more exciting for sophomores to make the bio-walls happen.
"When we visited the Grunman greenhouse, I was just like wow… How does this plane collect water because judging from how it is locked up, I don't think that people open the plane and water plants daily." said Sophomore Tsion Habtamu. "So then we learned that it collects rainwater from the top and flows down to the plants… that system was pretty cool."
"I loved the science behind the bio-wall regardless from how cool it looked, I loved how it had a purpose other than being a decoration, it is such a functional way of purifying indoor air." said Owen Grzywinski.
Both trips presented them with creative ways in which plants could be used against global warming. After gaining determination from experiencing the authentic development of a bio-wall, it was a perfect combination with the righteousness that each person felt towards improving this earth.
The students collaborated to create their own system of teams for a functional foundation.
"The building part of the process was the fun part." Antonio Reveron commented. "Being creative in making the bio-wall with my teammates was sometimes difficult because there were so many different ideas on how to build it. In other words, to build one bio-wall that would suit everyone's opinion was time-consuming."
Ultimately, groups came up with different strategies for their final products.
"There was this one group who came up with such a creative idea where they used denim pockets as plant holders. It looked like a quilt, it was really cool." Niyala Brownlee said. " And the function of it was even better because the fabric would soak the water through the whole quilt providing water for all the plants inside the pockets."
The completed bio-walls were featured at this year's Science Festival, and are currently being displayed in front of SLA's office.