Brendan Hall
Staff Writer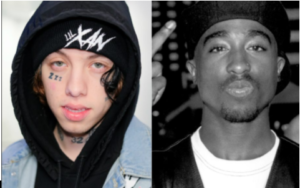 One of the biggest stories in Hip-Hop for 2018 is controversy surrounding rising rap star Lil Xan, who disrespected rap titan Tupac Shakur's music.
The Californian rapper built a strong following in 2017 after he dropped his breakout hit "Betrayed". The song's music video has amassed over 147 million views since its release in August 2017. He quickly became categorized with the new school of "mumble rappers" that are heavy on autotune and a "rockstar" attitude.
Shortly after achieving stardom, Xan was met with mixed feelings from the hip-hop community. The younger audience saw him as a unique person who was trying to denounce the use of Xanax.
However, many others saw this as hypocritical since he got his stage name from using the prescription drug recreationally. New York's renowned media platform known as  Hot 97, was the first party to surround the young artist with negative press over his stage name. However, this controversy was not nearly as intense as his Tupac comments.
On February 14th, Sean "Puffy" Combs' media outlet Revolt asked Lil Xan to rank various things based on a scale of 1-10.
When asked Lil Xan to rank Tupac, the 21-year-old rapper surprised many by ranking one of the most impactful artists in music history a 2/10 because Xan thought Tupac made "boring" music.
This comment was quickly met with backlash from fellow rappers such as Atlanta based rapper Waka Flocka Flame who quickly spoke out on Twitter stating, "Lil Xan is Banned from Hip Hop."
Fellow Atlanta native and rapper Rich Homie Quan also joined in on the dispute.While being interviewed by radio personality Big Boy on LA's Power 106 radio show that "Lil Xan is the wackest in the [rap] game right now." However, rappers aren't the only ones who are showing distaste for the young rapper's remarks.
Lil Xan has been threatened by Tupac fans in person after this comment,  to the point where the rapper once needed a police escort.
Xan has since bought a Tupac t-shirt to apologize for his comments, and played a Tupac song at his concert. However, the majority of Hip Hop fans were not satisfied, including several students in the SLA community.
Junior Taylor Green is a fan of both Lil Xan and Tupac and even dressed up as Lil Xan for Halloween this school year. Green laid out her opinion on this conflict acknowledging both sides of this debate.
"I can see it from both sides because I'm like okay it's kind of repetitive. At the same time that could be said about some of his stuff. I wasn't that mad because everyone is entitled to their opinion," Green explained.
Senior and emerging rapper Christian McCormac had a much different reaction to this conflict than Green.
"It was disrespectful. Tupac is a goat [greatest of all time]," McCormac said.
Junior Raymond Rochester added to McCormac's disapproval for Xan's actions. Rochester, who is heavily inspired by Tupac's music, analyzed his music for an English project this school year, was offended by the blatant disrespect toward one of his idols.
"I don't know anything about Lil Xan including what he was thinking when he said that. Now yes I am bias [sic] due to Tupac being a huge inspiration of mines [sic] but boring is the last thing that Tupac's music was. His music told stories and was used to express himself. Everyone is entitled to their opinions but I have to strongly disagree. Lil Xan didn't even give any context or explanation on why he thought that about Tupac's music and didn't even seem like he was fully aware of the situation he was in like he was in a daze," Rochester stated.
Despite, being a rising star with millions of followers this hot take on a Hip-Hop legend has seemed to plague Lil Xan's career. Tupac's legacy has become attached to Xan due to an unpopular comment and has become the new face of the generation gap in rap music.