Juliana Long
Staff Writer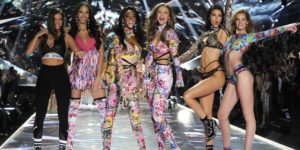 Not all types of women are accepted in the fashion industry.
Many are outraged at a recent confession from Ed Razek, former CEO of Victoria's Secret, myself included. Razek was asked in an interview if he would consider having plus sized or trans models in the Victoria's Secret Fashion shows, to which he replied: "Shouldn't you have transsexuals in the show? No. No, I don't think we should. Well, why not? Because the show is a fantasy. It's a 42-minute entertainment special. That's what it is."
The issue with Razek's comments is tricky to navigate for some including myself. But after some careful analysis and deep thinking, I came to some conclusions about my anger. Right off the bat, he used the term 'transsexual' which is no longer an acceptable term when speaking of trans people. The umbrella of 'trans' or 'transgender' would have been entirely better. This could simply be a case of poor education on trans terminology, but nothing gets better towards the end of his comments.
He goes on to confess that he doesn't think trans women should be in the fashion show because the show is a "fantasy". This implies that trans women aren't as desirable, able to be fantasized, or ultimately truly female as the cisgender models in the show.
The performer at the 2018 Victoria's Secret Fashion Show, Halsey, wasn't happy with the CEO's comments after her performance. She took to Instagram, posting a page long piece on why she was offended by Razek's comments. She claimed that as a member of the LGBT+ community, she does not tolerate exclusivity and that people's anger towards Razek should be redirected to organizations that protect LGBT+ rights such as GLSEN.
After being criticized by many, Razek took to Twitter with a rather short apology, which didn't charm me.
He pulled a classic "I'm going to apologize for your offense, not for being offensive" by apologizing that people interpreted his comments as transphobic. He then claims that trans women have come to castings but never made it, claiming it was "never about gender". He digs himself an even deeper hole with this remark since it has even more transphobic undertones & implications.
Razek contracts himself by claiming to reject trans women in castings was "never about gender", while simultaneously pointing out that they're trans.  Just by categorizing trans women auditions as separate from cis women auditions means that that gender has something to do with it.
If gender had nothing to do with it, Victoria's Secret shows would feature a mix of both cis and trans women. His comments claim not to ostracize trans women, but they still close them off from any opportunity to participate in the fashion show.
Victoria's Secret is arguably the most popular lingerie company in the US, and it's a symbol of feminine beauty, sexuality, and confidence for many women across the country. The company's leader is now a known transphobe – so now these aspects of femininity have been revoked from trans women in a way. They've essentially been left out of one of the main symbols of beauty in the country. And until they start being allowed to participate in the VS fashion shows and other popular modes of representation, they'll continue to get excluded from the definition of beauty altogether.