Eric Valenti
Staff Writer
Educon is right around the corner and people have big expectations.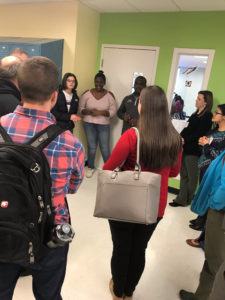 Starting Friday, January 26th,  Educon is a conference that brings educators from across the U.S. together to discuss all angles of school and technology.
This year Educon is being organized by Physics and Astronomy teacher BJ Enzweiler and English Teacher Amal Giknis, and the student co-chairs are Junior Miguel Rivera and Senior Ella Burrows.
The process is a labor of love for months.
"Since September, myself, Mr. Lehmann, Ms. Giknis, Mr. Enzweiler, and Miguel meet every Tuesday to map out all aspects of the weekend. Then Miguel and I have to have our student volunteer meetings as well," said Burrows.
"This year, I have been lucky enough to have Miguel, my co-chair help me out a lot with scheduling, working the social media, looking at sessions and so much more to make sure everything is perfect for the weekend!"
So what's new and different about EduCon this year? Mr. Enzweiler explained that there have been several upgrades to the program."   
"We are not doing the Friday night non-educator panel. Instead, we are turning that night into the Educator Panel. This means that we aren't doing any Sunday morning panel," he explained.
" Second, because we have one panel instead of two, we will be finishing educon earlier on Sunday. Now the conference will be complete at 2:15 pm Sunday."
Educon is an opportunity for SLA to demonstrate what they do and what works so well — but also what doesn't work so well. Educon allows for students to show how they learn and to show teachers from around the U.S. how to implicate new tactics when teaching. But like any program, Educon has areas of improvement.  
"I have worked as a volunteer in the past. I remember moving chairs and I was on a panel for math. I think that more underclassmen can be included in the making of educon. I think this because I don't see a lot of underclassmen last year. However, I think that Ella and I have done a good job at motivating underclasses to come and support." Rivera stated.
Educon is a chance for everyone in the SLA community to get involved and work together to create a helpful and insightful environment. This year's Educon is going to have high attendance, great and new panels, and tons of SLA pride. The program is also a fundraiser for the school and typically raises tens of thousands of dollars.
Educon is a time where students are able to collaborate and make SLA into a campus in which students can share SLA techniques and methods globally. Without the students, Educon would lose its spark, the first-hand accounts of SLA's methods.
"The co-chair also gets to give a speech! Then the weekend is full of awesome sessions and conversations full of learning and meeting people. Thanks to all the lovely student volunteers, the weekend wouldn't be possible without the food crew and coat check volunteers as well as the floaters! There is a lot that goes on behind the scenes when a student volunteer, so I encourage everyone to try it at least once!" Burrows stated.