Everyone at SLA has a different sense of fashion. Whether it's (describe a couple of specific fashion trends or looks here), students all have their unique and creative looks, no matter what they choose to wear.
But where do people get their clothes and accessories? There will be times where a person can walk up to you and say "where did you get the jacket?" or "where did you get those shoes?", sometimes you will even catch yourself asking the same questions. Which is why I came up with this survey–to find out where SLA gets its style.
Up to 150 people took the survey and the results were expectedly unexpected. There was an equal amount of people who went shopping a frequently and others who rarely go shopping.
Along with that, many of the students here are influenced by not only what they like, but by fashion trends and celebrities, "Kanye West and Luka Sabbat. They are both fashion moguls and my idols, they influence many aspects of my life, fashion being the main one." said one survey taker.
Many of the people who shop at the stores they do, shop there because of the prices.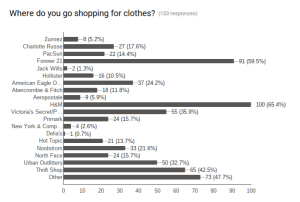 As shown above, almost 100 people at our school shop at Forever 21 and exactly 100 shop at H&M. Following those two front runners, many people shop at other stores such as Kohl's and Target.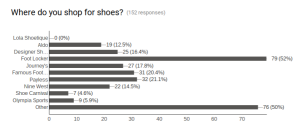 As for shoes, a good amount of people shop for shoes at Foot Locker the most. When it comes to other, people shop at Thrift Shops, Target, & Payless.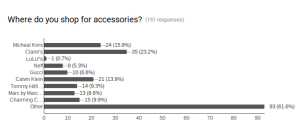 When it comes to accessories, many people shopped for them at their favorite shops, but there was less of a clear front runner for this category. From there as seen above, Michael Kors and Claire's are the most popular shops.
With all of this put out there, just know that many people here are no different than you are. Of course shopping wise they are not because we all go into a store liking what we see. We just leave with something different in our hands and make it our own. So next time you see someone and wish you had the nice shirt they had, know that they probably bought it at the same place you went shopping last week!