By Zoe Schwingel-Sauer
Philadelphia is known for having fine wining and dining. My family is constantly eating at new places and different cuisines.
Penang is a Malaysian restaurant located in Chinatown. The food is delicious, the service is attentive, and the ambiance is great.
I'm no stranger to Penang and their superb dishes. The starring dishes are the Roti canai (a doughy bread that is dipped in a chicken sauce with many spices), Mee siam (a noodle dish that is on the more spicy side with shrimp), and the Penang curry ayang (chicken in a sauce similar to the Roti canai).
The service is very friendly (and now recognizes my family every time we go). The interior of the restaurant is beautiful. There are dark wooden tables and chairs, with a unique tiling on the walls. You are also able to see into the kitchen as your food is made.
Penang is one of my favorite restaurants, and I highly recommend it to anyone who is a fan of Chinese or Thai food, and loves spices.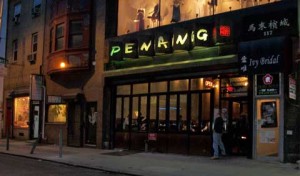 photo credit to phillymag.com