Jeremiah Butler
Staff Writer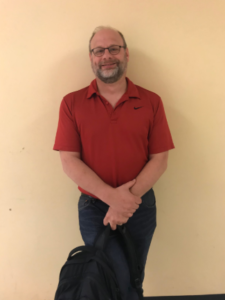 After working at the school since day one, History Teacher Matthew Baird is leaving SLA, at the end of the 2017-2018 school year.
Many at SLA have expressed how they feel about Mr. Baird and it has been nothing, but good things about the teacher all will miss.
When asked what would she miss about Mr. Baird Junior, Nzinga Suluki-Bey responded with "His dumb jokes!"  
"One time he said to me, I was doing SAT prep, and he was like, 'the answer is always C'. The answer was C."
"Then he'll be like 'what's uno?' We would say 'one' duh. Then he would say 'aidos….amigas'. We would say 'no amigos'. It's like dumb jokes, but fatherly so you enjoy them."
"He brings a pretty unique perspective on especially American History and ways of teaching civics education, it's sad. On the other hand, he's doing it willfully and is going to succeed in the next thing he does," said History Teacher Daniel Symmonds.
His leaving has definitely made many students think of the future of SLA and how it will affect their class selections and who will be added to the SLA family. Along with Art Teacher Ms. Hull, Mr. Baird is one of two founding teachers to leave the school this year, which is happening before the relocation to Benjamin Franklin High School in the school year of 2019-2020. SLA will be welcoming new teachers. The new teacher for his class at this moment is not yet decided, but during the summer they definitely will be ready to take on SLA the following year. Many hope for great teachers that are as understanding and considerate as him, but students can only hope.  
"Him leaving has struck a chord. Because he's like one of the first, he was as people call it the team," said Suluki-Bey. "So at least three of the first teachers has left SLA. So it's like the more of them keep leaving, it's like we're getting these new teachers so SLA's culture is changing. It's not the same anymore."
"He adopted one of the students at SLA, I think it was the first class or second class [of SLA] he adopted somebody who was having a very hard time in their life and they didn't have anybody, after that I understood him as a teacher and as a person," said Suluki-Bey.
The relationship between student and teacher for Mr. Baird has changed him for a very long time and one of the things he appreciates SLA for. She was in the second graduating class of SLA. She was in a situation where she didn't have a lot of families and she was near leaving SLA forever. Mr.Baird and his wife provided a way for her to stay at SLA by adopting her. She now goes to Howard University and they keep in contact with her almost every day.
Mr. Baird is moving on to retirement and plans to spend his time enjoying the summer where he doesn't have to plan classes. He isn't entirely sure, but he knows he will not be teaching in a high school classroom. He plans on trying something new.
"I am proud to say that I have taught at SLA and have been here [SLA] for so long. I knew teaching was something I wanted to do when it reminded me of myself and how much I struggled," said History Teacher Mr. Baird.