Mo Kelly
Staff Writer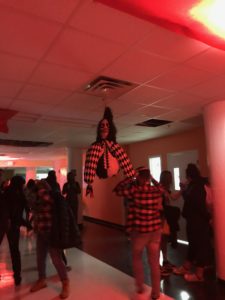 Halloween has come and gone and you know what that means. Kids — and sometimes adults — stuff their mouths with candy, they spend hours at the nearest costume store wondering what they should be, scary movies scar countless children for life, and every store decorate their stores with different varieties of pumpkins and bats.
But what does this mean at SLA?
Health and Physical Education teacher Pia Martin describes halloween at SLA "extra", saying "we go all the way over the ridiculous top with Halloween."
She says she loves Halloween here. "It allows everyone to participate at their level, and still enjoy it all."
However, this year the Wednesday schedule meant that the celebrations were not as intense as years past.
For the past few years, Students and teachers stay after school the day before and decorate the halls. This year, students did not do a complete haunted house, but covered the lights on the third floor with red and black paper along with other various decorations.
During the lunch bands, there is a student costume contest/fashion show, but this year no event took place. Instead, Black Student Union had students send picture of their costumes to their Instagram page. People then voted on who they thought had the best costume.
Teacher costumes this year included Mr. Enzweiler pirate-vampire hybrid, Ms. Leaness Rosie the Riveter and Ms. Shagin's and Mr. Kamal's Hansel and Gretel. They even made Ms. Shagun's door to look like a gingerbread house.
While teachers made a strong showing with costumes, student involvement was lower than usual, for a variety of reasons
Sophomore Lily Bromley decided not to dress up this this year or last.
"I don't care about Halloween, and it's not fun unless you're trick-or-treating," Bromley said. She also explained that she doesn't have the energy to put on an elaborate costume in the early morning.
Although she doesn't dress up, Bromley still enjoys Halloween at SLA. She enjoys looking at peoples costumes and trying to guess what they are.
Sophomores Taj Walter and Londyn Edwards are very excited to spend another Halloween at SLA. They have decided to dress up together as a pair of skeletons.
"I dressed up last year and it was really fun."  Edwards explained. She said she knew she wanted to dress up again and was inspired by an Instagram post she saw.
As this is her first year at SLA CC, Ms. Leaness was surprised there wasn't more student participation, despite the challenge of it being on a Wednesday.
Some sophomores and junior students explained that they didn't want want be in full costume when they went to their ILP after school.
"Still, I was surprised there wasn't more costumes." Leaness said.