Hallway Fashion
Alhaji Koita 
Staff Writer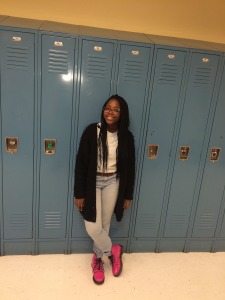 What is fashion?
1.  Fashion is subjective. Fashion is how an individuals wants to be viewed by the world.
What are some of your favorite brands?
2.  Ummmm I'm not really in to brands, but my favorite designers are Kenzo and Lizzie and Darlene Okpo (can't afford any of their clothes)
Who inspires you?
3.  Ugh, Solange inspires me and she is also who I aspire to be. Julia Sarr Jamois inspires me and Prince inspires me.
"Style is a way to say who you are without having to speak"

What does this quote mean to you?
4.  I completely agree with this quote and also fashion is who you want to be. As much as we like to be believe we define who were are to the world, we don't. Everyone who is able to see perceives as one thing based on what we wear. Fashion allows you to say "Hey, I'm city chic" "Hey, I'm bohemian" or "Hey, I really don't care, leave me alone." We don't get the chance to explain who we are to each person we pass. Fashion allows us to explain nonverbally.