Eric Valenti
Staff Writer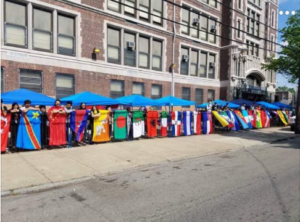 SLA's end of year programming starts soon, with Week Without Walls starting June 4rd and Field Day the next week, on Monday, June 11th. Both of these activities take a lot of planning from the faculty and staff of SLA Center City, and The students appreciate the grand gesture of planning something for the community to enjoy. Most schools don't devote a week of spectacular activities for students, or at least that's what most think.
Junior Ashley DeLaCruz appreciates the alternative programming.
"Once the classes are over some people don't have things to do so it helps students hang out with their friends. Others just want to leave for vacation but they feel compelled to stay."
Week Without Walls appears to be a time where students can connect with their friends and perform team building activities while having fun. Sessions this year include "Hikey, Hikey", where students hike, write on, where students write creatively and no walls, where students walk with dogs. SLA, however, is not the only school who has special programming like this.
Central High school does something quite similar to Week Without Walls, Symposiums. Junior Andre Pak attends Central and explained the program to SLAMedia.
"After finals, the schools hold Symposiums for two days, where students are free to explore their interests by participating in these fun activities in place of classes. They can range from rock climbing, learning sign language, or petting dogs."
It was interesting to discover that the infamous Central High school knows how to have fun and do things that are not only entertaining but informative as well, especially by the end of the year.
Junior Sadie Squillaciotti attends Furness High School and shared their own special programming.
"Well at the end of the year everything starts to wind down a little, we have our annual Multicultural Fair which is always fun. Our school is very diverse, so everybody brings food from their culture, and the school makes an entire day of everybody eating and doing activities. And when grades actually close we play games and watch movies." Squillaciotti stated.
The cultural fest seems like a unique and new experience for students to learn and immerse themselves in new and appreciative cultures.
DeLaCruz stated, "We should have possibly a cooking class or maybe go to a Phillies game. I would like to see SLA do something out of their comfort zone.