Lily Bromley
Staff Writer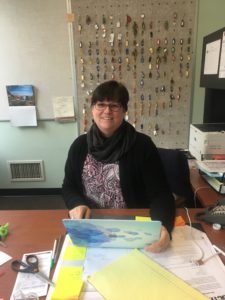 This year, SLA has welcomed in many new faces to the community. One of these teachers is the new Assistant Principal, Ann Leaness. Ms. Leaness has been working as a teacher for over 27 years, she previously worked at SLA Beeber as an English teacher and an advisor. Leaness also confounded an organization called Edcamp, which is a professional development resource for teachers.
Her History
Ms. Leaness grew up in Northeast Philadelphia and went to an all-girls Catholic school. When describing her experience in school she stated, "I loved high school, I had a great experience."
In fact, she loved her high school so much that she went back to teach there later in life. Leaness attended Holy Family University for her Bachelor's Degree and St. Joseph's University for her Masters. She worked at SLA Beeber for 4 years, and described how being an assistant principal differs from being an advisor, "I think I just became an overall advisor!" she stated.
Ms. Siswick, Guidance Counselor at SLA expressed her excitement with having a woman in an admission position at SLA and also discussed Ms. Leaness' qualifications "She has extensive experience in education as a teacher and an administrator, and also in the SLA model. Having worked at SLA Beeber, she really understands how the learning happens."
Nydirah Torrence, a Junior from SLA Beeber talked about Ms. Leaness' teaching style "Mrs. Leaness was creative and outstanding with her teaching that really pushed me to read more. In referring back to my middle school year I read tons of books but they weren't really interesting to me in my enjoying what I read. But by her big selection of books in her class, she made me open my reading experience"
Edcamp
Ms. Leaness co-founded a nonprofit organization called Edcamp that she described as a "professional development that is meaningful for teachers."
Edcamp meets on Saturdays and is entirely teacher run. "It just blew up," stated Ms. Leanes. "It went viral across the country. And it's international. And now there are hundreds of Edcamps."
Leaness founded the organization when she was working at Martin Luther King High School during which she began communicating with other teachers on Twitter. "It was something that was needed at the time because teachers were really feeling like they were being targeted, everyone was being really negative about education. So it was a space for teachers to really flourish and talk about education," said Ms. Leaness.
Yarn Love
One of Ms. Leaness favorite hobbies is knitting and dyeing yarn. She even has her own Etsy Shop called "WoolyHues". However, the shop is currently closed due to Ms. Leaness' busy schedule. She explained that when she was about 9 years old, a family friend taught her how to crochet, and she has been doing it since. Then, about 2 years ago she decided to take a knitting class and fell in love with it.
"When people think of knitting, they think of a bunch of old ladies sitting around, but it's really not like that. There is a lot of really young people who get involved in the activism of it, that's where the pussy hats were created." She stated, referencing the hats that many protesters wore when attending Women's Rights Marches and Anti-Trump Rallies.
Ms. Leaness said that she loved the people that she met in the Knitting community, and how thoughtful and kind they all were.
When asked what the students at SLA should know about her she stated, "I just love kids. I love being around them"