Amelia Benamara & Taylor Green
Staff Writers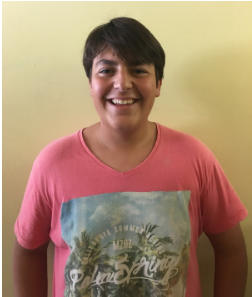 For the past few years, SLA has welcomed many exchange students from all around the globe. Junior Javier (Javi) Chueca-Bosch (pronounced CHOO-ES-KAH BOH-SK) is one of this year's additions to the school.
Chueca-Bosch is originally from Mataró, a town located near Barcelona, Spain. He is currently taking part in the Rotary Youth Exchange Program. The program's agenda is to help students learn a new language, discover another culture, and become global citizens.
Rotary Connections
Chueca-Bosch is living with Senior Chuckie Copeland and his family. Copeland is hosting after going on a Rotary exchange himself to Denmark last school year. Javi was already connected to the program because his father is the youth chairman for the Rotary club in his city.
He decided to take part in the exchange program because he needed a change of scenery. Bosch's goals include accomplishing being bilingual by the time this year in America finalizes, as well as being a better and mature person in general.
"I was tired of being the typical kid that everyone knows," Chueca-Bosch said. "I decided to change where I wanted to be and to also learn more English. The languages I speak so far are Spanish, Catalan, French, and English."
Experiences
Although Javi is a new exchange student at SLA, this isn't his first experience being in a new country.
Before this year's exchange experience, he'd been to America twice and had previous experience with exchange programs in France.
He attended school in France where he began to work on his French. In the future, he hopes to return to France, on another exchange program to improve this language and take it to an entirely different level.
"When I went to Paris as an exchange, I stayed with a family with two other kids in my school to improve my French. Unfortunately, it didn't work out much because us three would speak Catalan."
While in France, Chueca-Bosch explained that although the experience was a difficult at times, especially with his language barrier, he had the best time with his host family. In contrast to France, the East Coast is very friendly and overwhelming ― in a good way.
"My experience in the United States has been such fun! Meeting all of those people is sometimes overwhelming because I cannot even remember people's names."
Adjusting to SLA
Javi reports that SLA is completely different from all of the schools he has attended.
"SLA is a school totally different from a normal school. You have projects and can be with your phone in class. It's things like that, that make this school great. It is also very expensive in Spain, the school here gives you everything you need. I think that is great, makes people feel well about what they are doing."
"One of the first things that I told Javi was to go out and meet new people," Copeland said. As he has spent time here, he has really taken that piece of advice into account.
"I'm in the soccer club. That helped me make friends really easily. In Spain, the sports are different. If you want to play a sport, you have to go to a private club. Also, with the activities here, I feel like the school is more involved in all that and people will feel great doing that."
He is interested in participating in the student government club, as well as attending the latino club meetings.
Although Javi finds that making friends is the least challenging part of SLA, he confesses that the most stimulating portion of this school is the piles of homework the students are given daily.
"In Spain, the homework is not mandatory. They say if you want to do it, do it, that would be great for you. The most important thing is to pass exams. Homework each night has been very overwhelming, but for the moment I'm keeping with it."
Looking Forward
Chuckie shared another piece of advice he gives to Javi about being aware of how and what decisions he makes while in Philadelphia is such an environment SLA contains. 
"I told him that you have to make decisions here that will affect your life back in Spain and do everything you want to do here before it's too late. Whatever chance I get, I try to remind him that exchange goes by really fast."
In the future, Javi hopes to achieve his goal of becoming an Aerospace Engineer.
"After this program, I would like to do my senior year in Spain and then pass my exams to get into college. But before that, I'd like to either do another exchange in France or Taiwan as a gap year. I want to do something in space engineering. I like design and it's something I would love to do for a career."
Javi will spend ten months in Philadelphia, and then one month on the west coast with the Rotary Program. When he leaves, he wants people to remember him as the person who was always open to trying new things and meeting others.
Along with having the desires to return to France in the future, Bosch would also love to visit America one day as an adult after he has achieved the academic goals he has set for himself in Spain.
When this school year ends, he wants to keep his friendships no matter where he goes next.
"The most memorable thing that happened at SLA would be the chaos of the first day. No one knows where to go, I was super lost. The first day was chaotic. At the same time, everyone was trying to help me and all that meeting people makes me feel happy!"