Mekhi Granby & Lauryn Lewis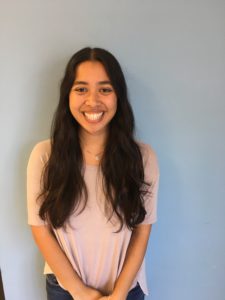 Staff Writers
Spanish Teacher Asha Francisco, one of the several new additions to Science Leadership Academy's staff this year, joins the school to replace Melanie Manuel, who taught Spanish for nine years at SLA.
Shaping Greatness
Ms. Francisco's early life/background is an interesting one as she comes from a household in Hawaii with a father from the Philippines, a mother from Brazil, a brother four years younger than her. She noted that Hawaii was pretty diverse and how she became to master the English language from learning it at school and coming home to teach her parents, things such as grammar and pronunciation.
Ms. Francisco remembers speaking Portuguese with her mother at home and leaving her classmates curious and wondering what she was saying when they spoke it at her school.
"In high school, I was an ultimate nerd, I was one of those kids who got straight A's, I took like 5 AP classes and I was president of a community service book club," said Ms. Francisco.  
"I wasn't officially in student government but I helped with it because of my friends, I was really involved in planning for prom and other senior events. I was also in Nation Honors Society and Captain of the tennis team. I really needed to get into college!"
Exploration
No stranger to traveling, Ms. Francisco started her travels early.  Before studying abroad, she left Hawaii to attend Oregon State University, and from there she took frequent trips with friends to Washington and California.
"I've been to Brazil multiple times because my mom is Brazilian, my dad is from the Philippines and we have traveled there as a family," said Ms. Francisco.
She has also visited Portugal, England, Hungary, Turkey and other countries as well.  For her, travel is also about much more than just sightseeing.
"My number one thing is to live in the country of the language that you're studying. As a Spanish major, I studied abroad my junior year in college. I went to Oregon State and we had trimesters, so I did my study abroad for 3 months in Santander, Spain. My senior year of college I went back to Oregon. After I graduated, I went to grad school in Spain. I knew I had to come back and understand not only language but culture and different expressions that you don't really learn in school because you're just on the basics. I went to la Universidad de Alcalá de Henares and did a one-year intensive masters program. To pay for school, I worked as a native English assistant in an elementary school. After the master's program was done, I decided to stay another year, so I continued to be a native English assistant, but this time in a high school."
"Living in Spain trying to find an apartment, opening a bank account, dealing with bills, all in Spanish with people who don't speak any English. This experience really enhanced my learning as well as being in the country I could see which career opportunities I could take," said Ms. Francisco.
Current Life
Ms. Francisco is now a Philadelphia resident as of last summer. She lives in Northern Liberties and utilizes public transportation to get around. From a small island to a major city, Ms. Francisco admitted that she has some adapting to do.
"East Coast life is very different and it was a little shocking at first, in Hawaii, everyone is very… when you walk by somebody they'll say hi.  It's like a family you know, really small. Here, it's fast-paced, not everyone says hello to you when you walk by and I'm starting to get used to that. I don't know, it's just very different."
Dealing with Distance
What was the most challenging experience of her life?
"The move from Hawaii to Spain, I was alone. I had to find a temporary place to stay, I had to find an apartment, get a roommate, it was really stressful. In the winter it was really cold and in the summer it was really really hot, Hawaii is in the middle, it never gets extreme in either season," Ms. Francisco said.
So I had to get used to that, it was different. It was really difficult to have to go through all of that by myself with zero help."
As for her professional life…
"The challenge is definitely the varying skill levels, I teach majority Spanish 2 and everyone is at very different skill levels. Some students are taking Spanish 1 here, some have taken it in different schools, and some have been familiar with Spanish all their lives. Trying to find a balance of making sure that the ones who've studied it forever are still being challenged while not going too fast for the people who haven't studied it forever has been a little bit of a struggle," said Ms. Francisco when asked about the challenges of SLA.
Qualities & Advice
Ms. Francisco hasn't been teaching at SLA for very long as the school year just started, that doesn't mean she hasn't made an impact.
"She's very persistent, she makes sure the kids understand what she's teaching. She doesn't  move on until the kids understand what she's teaching," said Senior Mekhi Friend, who's a student assistant teacher for Ms. Francisco.  
Friend also had some advice for her students.
"Don't chew gum in her class, come to class on time, and pay attention. She has an issue with students who tend to do the opposite of these actions," he said.
"She is very creative, very personable and has a bright personality. She's really creative and seems like a fun teacher," said fellow Spanish Teacher Joselyn Hernandez.
"I think I've shared a lot with her already but one thing I would like to say to her is to take one day at a time, because each day is different."
A Great Person
When asked to describe herself in one word, Ms. Francisco's choice was caring.
"Once you're under my wing as a student or a friend, I'll feel very protective of you," she said.
"If someone says anything or you don't feel very well I'd like to make sure that you're okay and that you feel better and that applies to a wide range of people."