Avi Cantor
Staff Writer
Imagine a mid-October day last year. A mob of students scuffles through the small doors of the SLA Center City campus. They have a wide variety of expressions on their faces:
Tired: a backpack lazily sagging off of their shoulders as the top of their eyelids droop down with minimal space between upper and lower eyelid.
Irritated: a private phone call made more public than it has to be is paired nicely with a 24 ounce Dunkin Donuts iced coffee. The coffee doesn't fit the frigid 40-degree day in any way.
Satisfied: bits of cream cheese or bread crumbs clinging to the corners of their lips as the rose color in their cheeks spreads toward their ears.
In the midst of it all stands Co-Principal Aaron Gerwer, greeting everyone with a smile on his face. He shakes the hands of some, fistbumps others; interacts with all.
These kinds of interactions with the student body were a hallmark of Principal Gerwer's presence at the school and created a familial environment that made students feel comfortable and safe.
However, these interactions unfortunately only lasted for so long. Mr. Gerwer decided to move on from SLA to join the String Theory High School staff as the principal.
But instead of being mad at him for leaving, many students are happy for him and wish him good luck. One of these students is Senior Zahira Tucker. Tucker had a very close relationship with the former principal.
"If I wasn't in Mr. Gerwer's office at least once a week, then I don't know what I would've done," she stated. "With everything that was going on [in my life], Mr. Gerwer knew a lot about me and he definitely helped me get through a lot."
The two became very close in between freshman and sophomore year when Tucker was having personal issues and wanted to find someone to talk to. She usually talked to school counselor Zoe Siswick about these issues but found that she wasn't in school on a day that she needed someone to vent to.
She decided to approach Mr. Gerwer and the two went into his office to talk. Tucker felt really comfortable around him and found that he was "helpful" and "a very observant person".
Tucker and Mr. Gerwer's relationship only grew from there and eventually, Tucker would ask for a college letter of recommendation from him, even after word spread that he was leaving.
Even though Tucker was crushed by Gerwer's decision to leave, she still hoped the best for him and will "miss him just strolling through the hallways". This casual, but caring attitude is something that members of his new school are starting to experience first hand.
Students at String Theory are enjoying the energy and vibrant personality that Mr. Gerwer brings to their school. Senior Lamar Thomas was initially skeptical of Gerwer but now accepts him into the String Theory community.
"He's pretty cool," Thomas explained. "He lets us be free in the hallways and stuff but gets on us if we're playing around too much. I think he's gonna be a good principle for us."
Despite Mr. Gerwer's departure, members of the SLA community like Zahira Tucker understand what kind of impact he had on our community and wish him the best at his new job.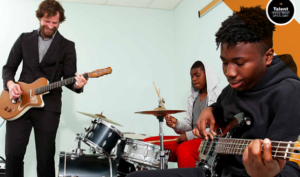 Photo Courtesy of http://philaschoolpartnership.org