Mo Kelly
Staff Writer
On the first of February this year, CTE coordinator Abigail Shagin departed Science Leadership Academy for a position outside of the School District of Philadelphia. Surprised by her mid-year departure, many CTE students wondered who would replace her. . Some wondered if they would be even getting a new teacher this late in the year.

The answer came a few weeks later. On March 4th, the SLA community welcomed Torian Ugworji as their new CTE coordinator.

Ms. Shagin left SLA to work at SAP, an engineering firm in Philadelphia. She worked in communications there before accepting the position at SLA. Now, she is doing administrative work there.

As soon as Ms. Shagin gave her notice to the school, the hunt for a new CTE coordinator was on.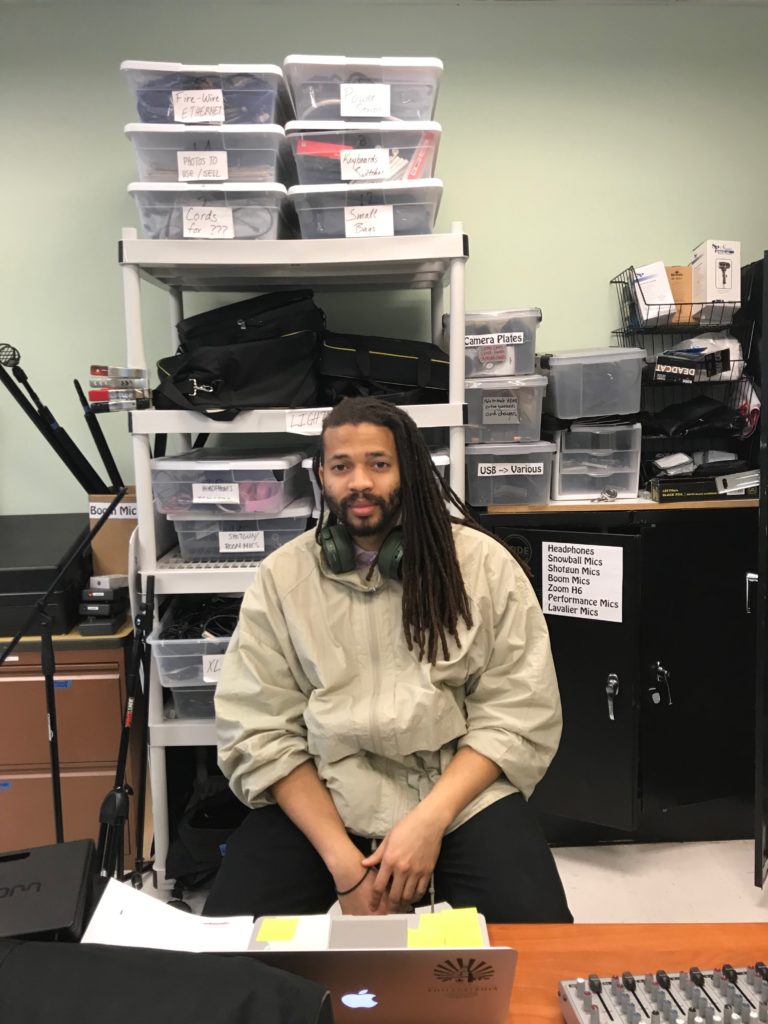 Digital Video teacher Anna Walker-Roberts was one of the teachers working to find a replacement. She says that after having Shagin around for a year and a half, they knew exactly what they wanted in her replacement.

"We were looking for people that had an interest in teaching… also someone who has administrative skills and could help organize and manage the internships. And of course someone who had at least an interest in either engineering or digital video."

After interviewing many candidates, Ms. Walker-Roberts, along with Engineering Teacher John Kamal and Principal Chris Lehmann, decided that Mr. Ugworji was the best fit for the job.

Mr. Ugworji grew up in Richmond, Virginia. But, in middle school, he moved to Savannah, Georgia, which is where he attended high school.

"I remember thinking that I was going to live on the beach, and that my school was on the beach. I was sad to leave my friends, but excited to be on the beach," Mr. Ugworji said about moving to Savannah. To his dismay, he did not actually live on the beach.
During high school, Mr. Ugworji began to try many new activities including dancing, acting, and art. He told the story of how he began dancing, or more specifically krumping, to many of his classes when he first arrived.

"I went to a party and decided that I was going to dance, cause that's what's cool, but I didn't know how to dance," he explained.

"People mistook my flailing arms as krumping, so I started learning krumping, and I got introduced to breakdancing."

He graduated Virginia Commonwealth University in 2014 with a degree in Kinetic Imaging.

His natural creativity has led him through many different kinds of jobs. One of his most notable ones was working as the video director for an app. The app, called Think of Us, aids foster kids after they age out of the system. This app helps foster kids build a support system, educates them on "adult" concepts like rent, mortgage, etc, and coaches them through life after foster care.

Mr. Ugworji heard about the open position at SLA from a teacher friend. He said he immediately knew he would be a good fit for this building.

"I like the culture of this school," Ugworji says about SLA, "The core values are things that I think are very vital to the growth of human beings and are things we do subconsciously."

Sophomore Lily Bromley has Ugworji in her Intro to Dig Vid class.

"He does a lot to connect with us as teens. I think he's going to do a good job at connecting the things that teens take picture for, social media with photography… He's actually making it relevant to today."

Coming into a new school halfway through the school year has proved to be challenging for Mr. Ugworji.

"It's weird. If you're coming into a structure or system that you're not apart of, it can be very confusing, but you get the hang of it after a while."

Although he is a new face around SLA, the community has taken to him immediately.

"He has a good ability to connect with students, especially one on one… He's able to make classes fun and make the kids laugh, which is important," Walker-Roberts says.