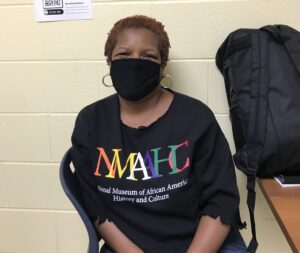 By Leticia Desouza and Val Escobar
Staff Writers
Though special education assistant Karla Howard recently was able to rejoin the SLA community after working at other schools, she is still familiar with the enjoyable memories and feelings of being with the SLA community. As a family person, as well as a passionate worker, she hopes to be of as much help as she can for others.
A Passionate worker
As a classroom assistant, Ms. Howard's primary responsibilities include offering extra help to those who need it.
Being in the same work field for many years, Ms. Howard still seems to have this deep passion for her job. She cares for the ones she helps and wishes the best for those around her.
"I have enjoyed working in that field for the last four years," stated Ms. Howard. "I enjoyed it because I was with SLA." she later added
Her deep passion for her work is appreciated by many of her colleagues.
"Without her, we would not have staff parties and staff get together. She has been helpful with making sure people in the staff know each other's names and looks each other in the eyes," History Teacher Dan Symonds stated. "If someone has something going on, Ms. Karla is going to make sure they get condolences cards, flowers, and get checked in on. She is like a team builder for the staff"
Ms. Howard loves working at SLA and with the community, and now that she has managed to return, she does not plan to leave any time soon.
"I love the teaching staff here. They are dedicated and they work tirelessly to do the things that they need to do to make sure that they can perform and give the students what they need to excel." Says Ms. Howard.
A Family First Person
Outside of school, Ms. Howard loves taking time off to spend it with her family. She enjoys doing activities with them such as playing cards and going to cookouts.
She also loves capturing these moments with pictures. "Every minute that I can, I'm taking pictures." She explained.
For Ms. Howard, it seems that when taking pictures, it is all about the memories.
"Every time we do something, I'm always taking pictures which makes my mom always come for me." Explains Ms. Howard while creating a camera gesture.
Her friendly and caring aura seems to come from years of love from her family. Ms. Howard is not afraid to share those feelings with others around her.
Outside Work Interests
Though Ms. Howards spends a great time working, she also enjoys her time doing other outdoor activities.
"I like to walk… I like to participate in all of the walks," she said.
Walking is one of the passions Ms. Howard has, but due to the current situation with the virus, she isn't able to participate in many activities this current year.
Although the virus outbreak is still occurring, it did not stop Ms. Howard. She enjoys other activities during her free time. Ms. Howards states that she also grew fond of spending her time reading books of her choice. That seems like she has been reading more during this time.
An Excellent Co-Worker
Hiring Ms. Howard back was not a difficult choice. Her charismatic and caring aura has impacted many around her. History Teacher Dan Symonds and Engineering Teacher John Kamal were two of many teachers that only had good things to say about Ms. Howard.
"Ms. Karla is someone who brings plenty more experience with children and African American history to the room." explained Mr. Symonds.
Ms. Howard is very experienced in many areas of her job. This seems based on the many situations she has been in throughout her career as a special education classroom assistant.
"Ms. Howard was incredible. She has a background that enables her to be very good at the job that she does and she was very supportive of my students," Stated Mr. Kamal.
"Knowing more about her background, the degrees that she has would give you more insight into her as a person and all about her family."