Lauryn Lewis
Staff Writer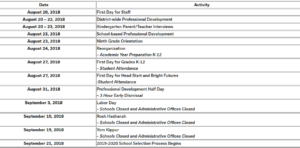 Students around Philadelphia have been talking about the upcoming and current changes in the school year.
The School District of Philadelphia has been notorious for shortening Spring Break for students due to inclement weather that causes the cancellation of school. For the past few years, Spring Break has been significantly shorter than usual.
The usual Spring Break usually consists of a full school week. The Spring Break this year is only 3 days, almost half of what is usually given. Students are not happy about the now shortened Spring Break.
"When I found out that we were that we were going to have a shorter Spring Break I was mad but not surprised," said Junior Zaire Williams
"I feel like this happens every year. It would really be nice, especially as a Junior, to have an entire week off from school. Junior year is so stressful and I look forward to my days off so I can relax."
This is only one of the changes of that students and teachers will soon be facing. The School District has also stated that they plan on starting the 2018-2019 school year earlier than previous years.
School is scheduled to start on August 27, a week before Labor Day. Students usually begin school the day after Labor Day.
According to Philly voice, District Spokesperson Lee Whack states that "We (School District)  are focused on changing the calendar so that it's best for students, parents, teachers and our entire workforce,  One way to make sure of that is to have more consistent uninterrupted weeks of school. That will improve academic performance and attendance."
Many of the students at SLA feel disagree with that reasoning.
Junior and Student Vice President Naima Debrest, stated, "I do not think that this schedule change was thought through. Having more interrupted weeks of school will not help students improve academically. It is more likely for students to become agitated and perform poorly, the longer they are in school."
Starting school early may also cause health hazards in buildings without air conditioning.
Nurse Kelley recalled what it was like working in a building without air conditioning.
"I've worked in schools without air conditioning and it was difficult. In order to stay cool, we had to wear cotton, short sleeves, and keep the windows open. I don't understand why the School District would want to start school that early when August is one of the hottest months. I feel that starting school later, (after Labor Day) is best."
The Summer is usually a time for students to take time off from school and get time in at work. With the conflicting schedule, many Summer jobs will be cut short leading to students spending less time at work during the Summer.
The shortened Spring Break also has students feeling the financial pinch.
"I already have a job now. But school starting early and losing most of our Spring Break is kind of hard. I've been trying to save as much money as possible for our Senior dues that are coming up and for college." states Brendan Barnes. "I feel bad for students who are still searching for a job. They'll have searched all this time just to have worked over a shorter period of time."
Students and faculty do not see themselves appreciating the change in the school year.