Rasa Watson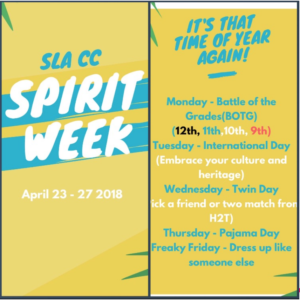 Staff Writer
From April 23rd to April 27th, Seniors Nadya Negron and Deja Harrison hosted SLA's second spirit week of this school year. They wanted to do this as they felt senior year coming to an end and wanted to do something fun for the whole school and help get the school involved.
Spirit week is a time for students at SLA to feel school spirit that many say SLA lacks when compared to so many other schools. This year for spirit week, each day consisted of a different theme. The first day was Battle of the Grades which consisted of various competitions between the grades. Each grade would wear one color and compete together in competitions that are inspired by the TV show Wild N' Out.
The next day, a Tuesday, it was International Day where everyone was invited to represent their own cultures and heritage. Negron and Harrison wanted to do this to embrace the diversity of SLA.
On that Wednesday, it was twin day where students were encouraged to match outfits with their friends. That Thursday was Pajama Day which Negron thought would be fun for everyone as it would help everyone relax. And finally, on Friday, it was Freaky Friday where everyone was encouraged to switch a whole outfit and if possible life with someone else for the day.
Negron is involved in the spirit week as her capstone was creating and organizing a school spirit week. She said that one of the hard parts of it was organizing the whole thing and making sure that the community at SLA was involved in it and was going to participate.
The school spirit week received lots of good reviews, including from sophomore Jeremiah Butler who said that he thought that school spirit week was a great thing for SLA and for strengthening the community, "It was really a lot of fun to see everyone being involved." However, the fall spirit week had greater participation than the spring one, as it had themes that inspired more people to get involved, such as meme day.
Negron and Harrison both felt very similar to Butler as they said that it felt good to see everyone involved and enjoying it, especially knowing that they helped make it happen and it was the fruits of their labor.
Last year, the week was sponsored by a larger committee. Harrison became a part of organizing the school spirit week as she already had experience in school spirit due to her participation in SLA cheerleading team. She said she really liked helping create a school spirit at SLA in the cheerleading team and wanting to spread that to the rest of the school.