Matthew Milligan & Jayla Wright
Staff Writers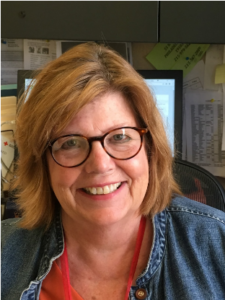 School Nurse Agnes Kelley has been an SLA faculty member for the past six years, and full time at SLA since the fall of 2016. Nurse Kelley, who goes by the nickname "Onnie," has had a long and complex nursing career that goes way beyond her current placement.
Early Life
Born in New York, Nurse Kelley spent most of her childhood in Philadelphia. She attended a Catholic school where, by her own admission, she was "a very uninterested high school student."
With most of her family in the medical fields, Nurse Kelley decided that it was "the path of least resistance" to become a nurse. After making her decision, she made her way to nursing school and became a registered nurse in 1970.
After finishing school, Nurse Kelley found herself traveling with her job. Her work has taken her to Chicago, New York, London, and the Caribbean. It was in the Caribbean health clinic, where Nurse Kelley met her husband. It was also the place that Nurse Kelley had one of her most profound experiences: delivering a baby during a sudden labor.
"It was the most frightening, the most terrific experience that ever happened to me," Nurse Kelley stated.
Becoming a School Nurse
It was not until many years of regular nursing in Philadelphia that Nurse Kelley began to consider other possibilities in her field. At the time she was working in the emergency room where she eventually noticed the toll her hectic hours took on her family. She had a young son at the time.
"It was not just not optimum for raising a son . . . I hardly ever got to see him and he was alone a lot," Nurse Kelley recalls. "I started looking for a job with more sociable hours."
When Nurse Kelley finally became a school nurse, she worked at many schools before settling at SLA. She found herself exposed to a lot of the diverse culture that Philadelphia has to offer. Because of this, Nurse Kelley has a good understanding of students from many backgrounds.
Caregiving at SLA
Junior Sara Berg is grateful for Nurse Kelley's work. "As a school nurse, I think [being a school nurse] is a really hard job because you have so many kids always coming to you, and I think she does a good job at it, dealing with everything."
Though she spends her days caring for those in need, many students admit to being afraid of Nurse Kelley. To this, Nurse Kelley responds sincerely.
"What I should do is take a look at my own demeanor and the way I address things and see if I can soften a little bit so they don't feel that way and also encourage those kids to come and talk to me . . . I'd love that."
Berg had a different story to tell about her. "As a person, I think she's very sweet. She's very caring."
Counselor Zoe Siswick, who often works alongside Nurse Kelley, attests to her dedication to student health.  
"If she sets her mind on something, she won't stop until she achieves it," Mrs. Siswick said. "And while sometimes it might seem frustrating to people it's actually fantastic because she really is doing all of this with our students best needs in mind."
Promoting Healthy Values
For Nurse Kelley, being a school nurse comes with one important benefit.
"You can do good every single day," she said. "It's an extremely rewarding exciting job"
One way that Nurse Kelley is doing good is by teaching a course in Health and Wellness. It meets twice a week as an elective.
"I want the kids to come anytime they need to, I want the kids to be empowered to be an adult, and in charge of their own health."