Brendan Hall
Staff Writer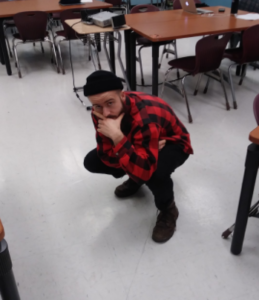 A staple of the SLA community has been a substitute teacher in the district. His name is Mr. Orion, Mr. O for short. During his tenure, he garnered a stellar reputation. Many of the students at SLA have great things to say about Mr. O.  Junior Ashton Reigner described Orion as, " a person that has a lot of great knowledge on life and is a great person to talk to." Mr. O often goes out of his way to help counsel students with their daily lives. Aside from this he releases his own independent hip-hop music and raps with students here. He even had a rap battle with SLA Junior Raymond Rochester during a period he subbed.
Early Life
Mr. O was born Kia Orion on June 3, 1991. Despite growing up in Spencer, New York he was actually born in New Zealand.  He was born into the family with a Spanish Teacher for a mother and his father who was an author. The town of Spencer only had around 2,000 people in the area. Orion found an interest in Hip-Hop music in his youth and created music of his own while in high school. This became a passion of his he became known for by students here.
After graduating from high school, Orion was accepted to Boston College but dropped out after a year Orion eventually enrolled at Tompkins County Community. From Thompkins, Orion would end up graduating from Cornell University with a Bachelor's degree in Communication, minor in diversity studies.
Orion's first adult endeavor was moving to New York City.
He worked at counseling troubled youth called Reconnect Brooklyn.To find better job opportunity he left New York City for Philadelphia. The first job he landed in Philly was as a bartender for the restaurant Bar. + Kitchen. He no longer bartends, but he does still wait tables, on top of being a substitute teacher.
Thoughts on the SLA community.
Mr. O has a lot of gratitude and respect for SLA community. He stated, "I love subbing here because it is so much calmer than other schools." Orion also said that the school has many creative and unique people that interest him. "I love subbing for the kids as much as they love having me." He also mentioned that working at this school gives him an important bond. "SLA is what I wish my high school was like."