Lauren Nicolella
Staff Writer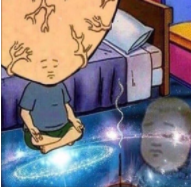 Meme culture has developed over time on all social media platforms, but specifically on Twitter and Instagram. They've flowered into everything from various iconic Spongebob scenes, videos that end with WWE wrestler John Cena's introduction into the ring, and other out of context photos with new labels put onto them. It comes to a point where they eventually can be overused and become outdated. Luckily for social media users, there are new memes catching our attention fairly often.
Memes have impacted the today's generation in a way that embraces individual humor since Vine does not currently exist anymore. Vine was one of the main influences of memes, and the content transferred onto the other social media platforms once it was gone.
Junior Shamus Keough spoke about how he began to get more involved with memes around 8th grade, which seems to be a similar time of when kids were first exposed to the content like memes on social media. "I started making jokes with friends, and I went through things like Vine and Instagram and found stuff that was funny and just got into memes."
Being able to bond over these memes has given people an easier connection while making friendships. Keough talked about how some of his friends he met through social media have become some of his closest friends.
"I found a couple friends through Instagram and Xbox, and they're some of my best friends. I would say they're the best out of everyone I know. One of them actually is the same exact age as me and was born the same day, year, everything. We're really great friends and super similar."
Junior Matthew Reed has also voiced his support for meme culture and mentioned how it's been something that's been apart of his life since he was young.
"Sometimes it makes me realize that life isn't going to be so enjoyable if you take things so seriously. It's alright to laugh sometimes to make yourself feel better. Memes make me feel better, and overall happier," Reed explained.
The overall style of meme culture has changed over time. It's just how our society has evolved, and became different as those who were getting involved became older as well. They also contain what people are talking about: politics, old cartoons (mainly Spongebob), and random controversy topics.