Vilma Martinez
Staff Writer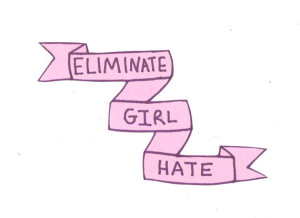 "First Depression now Derealization girl please"
"omg, talk too much, nothing new, here anymore, whatever else are u gonna do on u r channel, it is ALL BEEN DONE , REGURGITATED, CHEWED ON,OVER AND OVER , AND  OVER.  STOP BEING A PARASITE,  BECOME SOMEWHAT USEFUL IN THIS SOCIETY., LEARN SOMETHING, GET EDUCATION.REAL JOB.JOB."
Women and teenage girls alike have always had a reputation for  hating one another. However, this phenomenon has been especially prominent online, on almost all social media platforms.
In an effort to combat this trend, vloggers such as Jaclyn Hill a beauty vlogger who posts many makeup tutorials and Lilly Singh a comedian who enjoys doing beauty every once in awhile, have addressed this fact.
In a video posted on December 20th, 2015 Jaclyn Hill addressing recent comments in which girls have been name calling one another and attacking each other's personal lives. Not only that, but she also addresses hate she has received, not your "typical hate", but hate that has gone from "your ugly" to people attacking her family and her own mental stability.
"I feel like a lot of people forget that I have blood in my veins, I cry when I'm sad, I bleed when I get cut".
Many people would go as far as to say that she is begging for attention, "pinche chillona RIDICULA" said a girl in the video, this translates to "freaking cry baby", but then she goes ahead to say "I am in no way wanting anyone to feel sorry for me because I live a very blessed life and I am very happy to do everything that I do on youtube off youtube I love my life I do I am very appreciative for it so I'm not asking anyone to feel sorry for me".
It is a shame that women have to address things like this in order for them to understand that people are not asking for pity or attention. Instead she makes the video about everyone watching, "But this is not about me necessarily this about everything and everyone going on recently, I know I can't change the world, I know I can't bring world peace, I know I'm not God…but I just want so badly to try to encourage you guys to just find happiness and put your energy towards the greater good and I know that is so much easier said than done".  
She has so far had to disable the comment section on 2 of her videos due to the amount of girl on girl hate going on and most of the hate does not even include the content of the video, but women just hating one another.
Lilly Singh also created a video addressing the issue. "This is my Youtube channel. It has over 7.4 million subscribers, of which 84% are female, which means that over 6 million girls around the planet regularly watch my videos…This holiday season I decided to use that reach to speak up against an issue I'd love to see go away and that is girl on girl hate. So I decided to ask for some help from my girlfriends". From there the girls in the video go on to point out things to love about one another. They also talk about things to love about being a woman and being around other women.
"I think women are strong, beautiful, empowered goddesses" says Shay Mitchell, a woman involved in the video.
Has YouTube made this kind of hatred worse? After all, back in the day there was no such thing as anonymous commenting. If a girl had something nasty to say about another girl, she couldn't do it to her face and hide her own identity. In my opinion Youtube has become a nasty place where people are open to say the worst things to other people. The hatred has not gotten worse, I believe people have always been like that, Youtube just allows people to put their hatred out there.
I talked with Amanda Bolli, a close friend who understands what girls are capable of and here is what she had to says towards the matter.
"I feel disgusted by all the negativity that these girls are giving everyone. My mom always told me if you don't have anything nice to say don't say it at all and walk away. I think it is a good thing that they are creating these videos because it shows the viewers that say the negative things that they are there reading each comment. I think if everyone not only in the beauty world heard about girlongirl then it would stop. I still feel disgusted that girls are doing this to other girls. If you don't like it then watch someone else or do something else because it isn't about you. It's about the broadcaster and how they feel. Don't say something you will regret when they are getting better at what they want to do, while you're sitting on your phone or iPad or laptop hating because you don't have that. Instead of hating on that maybe you should actually try it. It's not as easy as it looks"
As for my opinion, it is the same as many of the other ladies that have addressed the issue. I not only wanted to show people the impact it has on other people, but the opinions of others also. This is an issue where many are affected and it good to have the opinion of those who are involved in the situations. Girl on Girl hate can be stopped, trust and believe that there will be women putting one another down, but we can prevent from going farther than what it already has. It takes a bigger community to do it.