Allison Kelly Staff Writer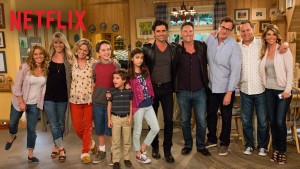 Growing up in a generation in which tv is very influential, different tv shows that we grew up on are some of our greatest pastimes. A lot of us who grew up in the 90's understand the meaning of a truly good childhood show. It was shows such as The Fresh Prince of Bel-Air, Saved by the Bell, Friends, Boy Meets World, and last but not least, Full House that kept us entertained after school during these years. In my opinion, tv shows have really fallen off since then, but this year the "good ole' days" were attempted to be reinvented.
Full House was an American sitcom created by Jeff Franklin for ABC. It followed the life of a widowed man, Danny Tanner, and his attempt at raising his 3 daughters, DJ, Stephanie, and Michelle, with the help of his brother-in-law, Jesse Katsopolis, and best friend, Joey Gladstone in their big home in San Francisco. It aired from September 22, 1987, to May 23, 1995, ending with a total of eight seasons and 192 episodes. Even if you weren't a 90's child, this show was so good that it lived on to the next generation through its repeat episodes that still air. But, showing the same episodes over and over again just wasn't enough and with the decrease in tv watchers who have replaced cable boxes with Netflix accounts, finally rumors of a remake of the show, Fuller House, would soon be released as a Netflix original series.
Fuller House is an American family sitcom and sequel to the 1987–95 television series Full House, airing as a Netflix original series. It was created and produced by Jeff Franklin. This time around, the show centers around the eldest daughter, newly widowed DJ Tanner, as she attempts to raise her three sons with the help of her sister Stephanie and her childhood best friend, Kimmy Gibbler. It starts out as a reunion for the family as they all said their goodbyes to their childhood home, until they realized it was a lot harder to let go of it than they thought.
Overall, the idea of the remake was very exciting and it allowed a lot of us to take ourselves back to our childhood, but other than that, the show didn't have that much to offer to anyone except the original series' most diehard fans. I must say they overdid it with reusing the most famous lines from the original series and every time they were thrown into the script it seemed a little forced, such as when Stephanie would say "how rude" or Jesse saying "have mercy". At times, the references to the original series were overdone and cheesy. It was nice to see all of the actual, original cast back to do the remake, well everyone except for the Olsen twins who played the youngest daughter Michelle. There actually was a funny reference to their absence at the beginning of the episode that the whole family took part in. Other than that, the series is a cute way for people to reminisce, but it attracts little engagement to any new viewers of the show that have no association with the original.