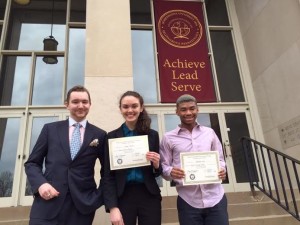 Sean Morris
Staff Writer
This writer recently had the honor and privilege of getting to go along with our own Anna Sugrue and Nashay Day and SLA's debate coach Andrew Gegios to go up to Lewisburg PA to compete in the debate state championship! We left school early on Thursday to St. Joe's Prep, then headed on a three hour bus ride to Louisburg! From there we had a nice buffet dinner and prepared for the next day of debating!
On my own end, I was doing impromptu. For anyone who doesn't quite knows how that operates allow me to explain. You receive a topic and within a prep time of 5 minutes you prepare a argumentative speech that would last for 5 minutes. For example, one of my topics was simply "books or movies" and from there I prepared for 5 minutes an argument for my own preferences of movies- based on things like visuals, sound and more- and when I got to the room for the judges and performed my speech for 5 minutes. While I didn't break, our debate coach complimented me and said I did sincerely good, and it was very nice time for me.
Now let's move onto the real champs- Nnna and Nashay, who debated PF style on the topic of whether priority spending should be in welfare or infrastructure for relieving income inequality in the united states.  Both of the debaters were able to give me their account upon the events. "We probably got qualified to go to state tournament… probably about a month ago… And it was really exciting to get to go to states and to be the first SLA team at states" says senior Anna Surgure. "We were going up against some pretty fierce competition, but we placed in the top eight (of 28 in the state)!" Says her debate partner and fellow senior Nashay Day. This also meant that they were qualified to quarter finals. Despite their advanced placement and ability to do SLA proud- they felt totally cheated of a round that both of them- and our coach- believed they should have won. Against the team "State College"- a team famous for being challenging but in this one they "didn't have a very compelling case", nor weren't even debating that well. Despite this they lost to their competition on a 2-1 vote and were unfortunately unable to move onto semifinals.
Despite this everyone was able to enjoy themselves overall. "When I got my award I dabbed which was really fun" nashay admitted. And Anna gave a good reason for being proud. "We were the only pf team from the philadelphia school district represented, first SLA team to go and we were facing teams that have full time debate coaches are getting full time help, people on their staff who do research for them, drills with them and nashay and I have none of that; it's all self taught, self made and we feel really proud of ourselves for having gotten this far and being able to compete against kids from rich, resourceful debate teams and do well. " and added that overall "it was a fun weekend" – and being there, I can certainly back this up!