Maya Smelser, Anouk Ghosh-Poulshock, & Gabi Hart
Staff Writers
Everyone knows the misery of waiting in the crowded line for the metal detectors before class. But what exactly is the district policy around metal detectors? Why did the old school building not use them?
Policy and History
"I don't like metal detectors," was Principal Chris Lehmann's first response when asked why there were no metal detectors at the old SLA building. SLA did not use them when located in the old building on 22nd Street.
Back in the Spring of 2019, the School District of Philadelphia pushed for mandatory metal detector use. . This vote was met with heavy resistance from students from SLA, SLA Beeber, and the Workshop School. . These students argued that it should be up to the schools to decide what safety looks like. Students like Zoey Tweh, who has now graduated from SLA, delivered 370 out of the 500 student signatures to the Board of Education Meeting that opposed the metal detector mandate.
Despite this effort, the School Board voted to make metal detectors mandatory in all schools, and they have been in constant use since the move to 1482 Green street. .
In the Office of School Safety's Guide to Search and Seizure, it states that any person connected to a school is "subject to a search of their physical person and all items in their possession by means of metal detectors, X-ray equipment, or by hand, for the purpose of preventing the introduction of weapons, contraband, or illegal items."
They also define a weapon as "any object, device, or instrument that is designed as a weapon or that is capable of threatening or inflicting serious bodily harm."
So what cannot specifically go into school? The list consists of: drugs, vapes, lighters, any gun (including BB guns), tasers, knives/switchblades, and pepper spray.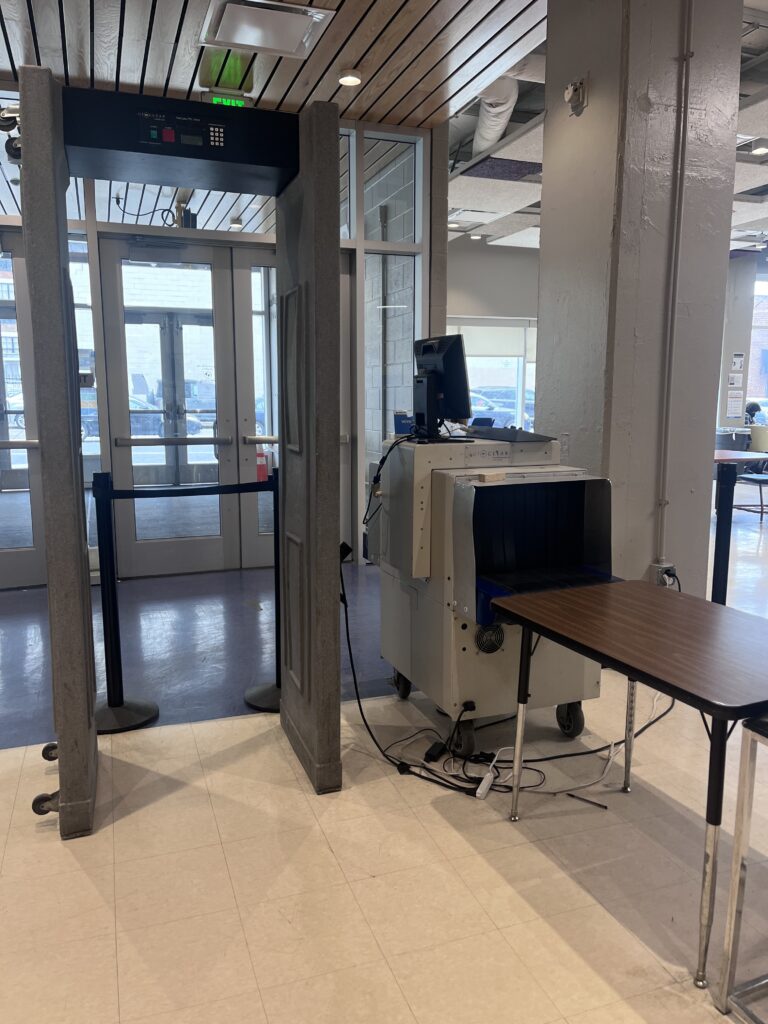 The Daily Experience
School Safety Officer Cynthia Byrd stated that she believes the school is better off with the metal detectors. "We live in an unsafe society. Metal detectors make kids more comfortable and put parents at ease."
At the front doors, there is also an amnesty box. Students have the option to place their contraband in the box, without any punishment. But do students even use them?
In our survey, we found that the vast majority of SLA students have never used the "snitch box", as one student called it, and some don't even know what it is. Only one student who responded to the survey said they had dropped an item in the box.
Administrative Opinions
Principal Lehmann stated that he is not sure that metal detectors are the effective way to solve the underlying issue that keeps metal detectors in Philadelphia schools and around the world.
"I think that the difficult thing about metal detectors is that you are trading off a sense of safety on one level of, 'We are keeping kids safe, we have metal detectors' but then we look at some issues across the nation where metal detectors were present and didn't stop the shootings. So one I am not sure that they are the effective deterrent that people think they are."
Lehmann also mentions the largest study of students' sense of safety and metal detectors conducted by the University of Virginia and how they responded to it. He highlights that the study showed that most students said the metal detectors made them feel unsafe.
"When I think about it here and the campus, we built in both schools spaces where kids could have a true sense of entry. On Ben Franklin's side they have the magnificent cafe and here we have the commons. Those are spaces that give kids a sense of entry like, 'I am welcome here.'"
Student Opinions
In an online survey, students were asked if they would feel unsafe to be in school without the presence of metal detectors. Their answers ranged from, "it's not that it would make me feel UNSAFE, but it makes me feel safer to have them," to claiming, "they don't even work in the first place."
In the same survey, the participants were also asked if they believe the metal detectors discourage certain items from being brought into school. 55% said yes. They believed that they were beneficial in keeping dangerous weapons out. But many also raised concerns with some prohibited items.
"Some students are given certain things to keep themselves safe if they take public transportation or walk home but as you can see these metal detectors are taking those away," one respondent wrote.
Numerous people talked about their disappointment and anger when something like scissors or metal utensils were taken from them, both of which they claimed are not weapons and have real purposes.
In the past few months, there has also been a spike of students being caught with contraband like vape pens. The guards have recently been more vigilant with checking bags and making sure students don't have any prohibited items in their bags. In some cases, the police have been called and students have received punishments outside of the school's suspension.
Another issue is the line. Some days only one of the two metal detectors is open and the line is out the door. Because of this, many students are late to class. The administration has assured students that no students will be marked late, but that still means missing some of class.
Despite these challenges, metal detectors will remain a part of SLA no matter what students think of them, and most students have accepted that they will always be a part of their daily life.
"I think they can be annoying, but I understand why we need them."