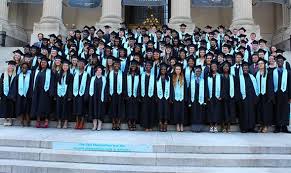 Dylan McKeon Staff Writer
As with the years before, the SLA graduation will take place in the Franklin Institute however the date of the graduation suffered a change. The year for this years graduation had to suffer a small date change due to another event happening at the Franklin at that time.
"The Franklin is made up of a  lot of moving parts and another group received it for the day we had planned" said project manager Jeremy Spry "Because of this the graduation will take place on June 12th."
Despite the date change, there is no changes to the seniors schedule otherwise.
"It's still the same old graduation, there won't be any changes to it or the schedule." Jeremy explains, "It's just been moved around and we apologize to those who've booked travel tickets in advance."
There have been no major issues with families having made plans for the graduation and being inconvenienced by the date change.
Three year ago a similar issue came up with the graduation date.
"We switched the date for President Obama, it was much more of a last second thing and I'm sure that families were inconvenienced." said Spry "Most families in that case understood the last second change, as its not everyday that the President of the United States speaks to a high school."
The new date for the SLA graduation is June 12, 2015 at the Franklin Institute.