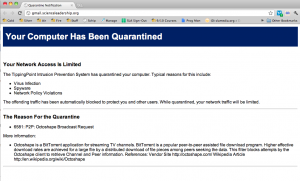 By Jenn Wright
Staff Writer
Everybody who has been quarantined is frustrated about the situation.
"The way it impacted the classroom," Ms. Laufenberg said, "was that this is the main machine I use to run my classes and for 5 days school days I was shut off from presenting information to kids and effectively doing my job."
English Teacher Larissa Pahomov's computer was also booted from the network, due to another widget called Octoshape, which she guesses a website installed on her laptop without her knowing it.
The first time her laptop was quarantined, Ms. Hull was able to get her machine back online the same day; but when she restarted her computer a week later, she was re-quarantined.
Ms. Hull believes it it a piece of malware that kept reinstalling itself after attempts to trash and remove it. Uncertainty surrounds as to how Ms. Pahomov eventually regained access to the network from School District of Philadelphia IT personnel because this piece of malware did not successfully get uninstalled by Ms. Hull.
She's living with a loaner computer until the situation is resolved.
The misconception about torrent files being for only knowingly downloading or sharing for illegal purposes keeps some students from using them and getting quarantined.
Art and Technology Coordinator Marcie Hull said of the situation,"What happens is people aren't educated enough, they don't know about it and these things happen by surprise because the way that information is traded they don't realize what's copy written and what isn't."
Others downloading freeware, or free applications from the net, have gotten banned unknowingly. Most small companies attempting to distribute their software in a legal fashion use a form of BitTorrent to get it to as many people as possible.
For students though, the procedure after getting pulled from the network for using a BitTorrent client contains a few annoying steps, particularly for a student from SLA requires internet access at most times of the day. A letter gets sent home for a parent to sign informing them that the computer cannot have access to SLA's wifi connections or through ethernet.
Juniors Zach Castro and Matthew Ginnetti were among the students in Ms. Laufenberg's U.S. History class who were quarantined.
Castro said, "It stops me from getting anything done, I can't do any research."
"If I didn't have an iPad I wouldn't be able to do any of my work," Ginnetti added.
The student must wait 5 days after turning in the paper to regain access. A few students even have been quarantined for weeks at a time, though SLA sent the correct information in promptly.
The detection system itself is an application put on the network at SDP that automatically detects and boots machine's using any type of peer-to-peer sharing.
Frustration within SLA has been growing, wanting to know which applications and sites will activate the quarantine. The newness of the program to the District contributes to this lack of information.
As Ms. Hull explained,  keeping the network open and fast moving is what concerns the IT people at SDP. For example, blocking Youtube because of the bandwidth of the videos is a much larger issue to them than blocking it because it is distracting to academics.
In the meantime, members of the SLA community with quarantined laptops are hoping to be back on the web soon.