by Dylan McKeon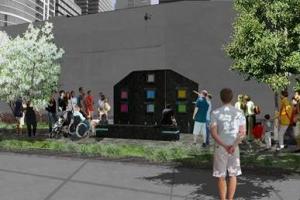 Many juniors and seniors remember how two years ago the Salvation Army Thrift store a block away from SLA, collapsed after the adjacent building under demolition fell onto the thrift store.
"It was in history when we heard a loud sound and we learned that the Salvation Army building collapsed." Alexander Wroblewski a junior at SLA recounts.
The collapse which killed six people and injured fourteen others has lead to many changes in safety requirements for other construction sites. Now the site of this accident is to be the site of a small park in memorial to the lives lost in the tragic building collapse. However while the park is to many a nice effort to improve the area, others debate it's true worth.
The park was the idea of Nancy Winkler the city's treasurer who lost her 24 year old daughter in the collapse. The idea gained more than six thousand supporters on change.org and raised more than $220,000 for the project.
The memorial's design will be shaped like a house with seven windows, six of which will represent each person who had died and one for everyone who was injured. The windows will be for the families to personalize and the names of the lives that were lost will be etched in the granite.
Many SLA students agree with the park believing it can help the area.
"It's a great idea it's a good place to plant tree and the memorial looks nice." Senior Marshall Woodruff said.
However, while the park seems like a great way to remember those who were lost, it has also gain much criticisms.
"Is there a memorial park at the site of the MOVE bombing? Is there a leafy glen where seven died in the Lex Street Massacre? What about memorial parks for the firefighters who perished in the Gulf Oil refinery fire? Or those lost in the Pier 34 collapse?"  Liz Spikol of phillymag.com said.
Also placing the memorial in the middle of the business area can take a lot of money away from the city as opposed to placing another store there. Additionally the area isn't the best for a park as many feel it will most likely gather a lot of trash from both the subway stop and 7-11 nearby.
That being said, many feel that placing the park would be a nice gesture but can only last so long before it becomes irrelevant to most of the city.
The cost to create the park is $600,000 and $220,000 has been raised so far. The park is estimated to be finished funding and begin construction by next year.