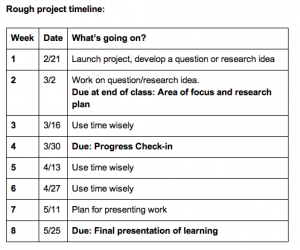 By Jenn Wright
Staff Writer
A new semester-long experiment started in February for juniors in Physics and seniors in Anatomy.
Running for a total of 13 weeks, juniors and seniors choose a medium to present their learning in a topic of choice.
The inspiration for the program comes from Google and their "20% time" method, where employees can spend one day a week working on anything they want to enhance the companies' services.
Quite fittingly, SLA has adapted this idea into science classrooms.
"It gives kids the chance to be creative and recess their mind," Senior Amber Altomare said, "while still being graded."
Teachers employing the project, like Science Teacher Tim Best, say that its purpose is "to learn about something you want to know instead of something I want you to know."
The 10% Time Project is a badge of just exactly how SLA has been operating under its unique teaching style since the day the doors opened.
Mr. Best speaks to the fact that while it requires a lot of work, the project is nothing like the senior year-long project. He says, "I want it to be worthwhile and educational, but not too much like school work."
There are few guidelines about how this can be formatted. The project description states the only requirement is that the final project be made public. That variety of choice is not an obstacle for the average SLA student, rather a preference.
Junior Tenzin Ngawang appreciated that freedom. "The teacher is not on your back about it," she said.
Coincidentally, the announcement by Chief Academic Officer Penny Nixon from the school district about removing the mandated curriculum was announced around the same time the project was assigned.
Principal Chris Lehmann is a part of the School Autonomy Sub-Committee that took part in developing the idea of taking away the scripted curriculum.
Mr. Lehmann said he hopes the decision helps to "develop curricular programs that are more responsive to the communities they serve."
So, does this mean that other schools will start adopting SLA innovations like 10% time?
""I hope so," said Mr. Lehmann. "I don't know that it will happen immediately, especially because it is already so late in the year."
"I believe that in time you'll see small scale experiments and implementation… that by school year '13 or '14 you'll see schools really blow it out of the water. Some schools are eagerly awaiting this."