Staff Writer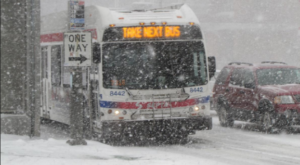 Brendan Hall
Harsh weather conditions are expected to happen during the winter, especially in an east coast city like Philadelphia. Since the change of the calendar year, there has been canceled school days, delays, and early dismissals. While it may appear that the school district has this under control, there are also students who have their commutes drastically affected by poor weather conditions.
The first instance this happened was on January 30th and 31st. Both days had low temperatures under 10 degrees while school still took place, which resulted in low attendance. The senior class had the highest attendance, with just over 50% of their students being present.
One of the students in attendance during the cold front, Avi Cantor, stated that him walking to school was more reliable than public transportation. He claimed, "I don't trust SEPTA at all… it comes at very inconvenient times for me… it's always late and the apps aren't good,". The vast majority of public school students rely on SEPTA for transportation to and from school. Its unpredictable nature likely was a major contribution to the low turn out those days.
Aside from the extreme cold front, snowfall on February 11th and 12th affected the ability for students to arrive in school. February 11th did not have a two-hour delay, this led an inconvenience in transportation.
"I ended up being 15 minutes late to school because my train got stuck in the snow," Senior Lucien Hearn claimed about his commute. He furthered his statement by saying that is not typical and was due to the snowfall.
Other students were not even fortunate enough to make school during those two days. "I had to miss Monday [February 11th] and Tuesday [February 12th] because buses weren't being sent to my stop," Senior Matthew Reed explained. Another senior, Ashton Reigner, confirmed this to be true because they would take the same bus route for transportation.