Fatima Abashera
Staff Writer
Saying Goodbye
Late last school year, the Science Leadership Academy community found out that Ms. Diane the secretary would be retiring in the middle of this school year.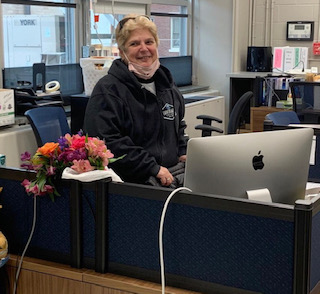 Her Legacy
Ms. Diane was the first secretary of SLA since its opening and has made a legacy and impact on everyone in the community.
Vice Principal Ann Leaness and other colleagues explained that it was what made Ms. Diane special. She had the ability to be so welcoming to everyone and the ability to become so good at her job very quickly.
"She was always really welcoming to everyone," explained Leaness.
These attributes of Ms. Diane would be the first thing people would notice when meeting her. Ms. Diane's friendly demeanor also allowed students' experiences at SLA to be easier.
Sophomore Jazmine Young described her experience at SLA as having "different opportunities to excel" because of everything that staff like Ms.Diane brought to work every day.
Outside the Main Office,
Something special about the colleagues Ms. Diane worked with within the main office was the personal relationship they had with her.
"We shared stories about our grandkids' ', Ms. Leaness said, further explaining the friendship they had outside of the office. Ms. Diane has made a continuous impact on the lives of the people working at SLA.
Ms. Leaness also said "She was very helpful" when she was new to the environment and learning the ropes is never easy.
Principal Lehmann has worked with Secretary Diane for the longest and has grown to love what she brings to SLA every day.
"She taught me a lot that I carry with me in my life", he explained.
The Next Generation,
When asked about possible new secretaries of SLA, Principal Lehmann was clear:
"There's no replacing Ms. Diane."
However, the office staff has made an effort to choose someone that would carry Ms. Diane's legacy every day when working in the main office. Lehmann explained that there were so many excellent candidates for the new secretary.