Jayla Wright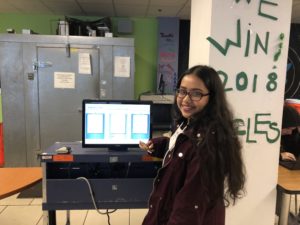 Copy Editor
Picture this, it's 8:15 in the morning. If you were to spare a glance towards the front doors of SLA you would see students running towards the entrance in an attempt to get their ID signed in. Some students can also be found casually walking in, appearing as if they couldn't care less if they were late. Or in other cases, students can be observed glancing at the time on their phone then walking to either Arch Gourmet or Dunkin' Donuts before signing in with the idea of if they're not going to show up on time they might as well get food first.
This is what the morning rush at SLA looks like.
The lateness policy at SLA allows students to have at least four latenesses before they have to serve a detention.
Most students have dealt with lateness at least once. When asked, both students and staff named  SEPTA delays as the most common reason for their lateness. As well as that, sleeping in, family members attempting to leave home at the same time, and other general inconveniences were shared.
Senior Salsabeel Elbakhadaoui, who experienced an abundance of latenesses in her previous years at SLA, explained her feelings on being late to class, "I felt like I was missing stuff in class. Because missing one thing in high school means that you're missing a lot, it's like missing building blocks."
However, when it starts getting close to the time class starts, Elbakhadaoui isn't one to start running
"If it says that it's 8:15 already, I mean I'm not going to take my time time cause I don't wanna miss class but I'm gonna take my time like I'm not gonna run outta breath."
This sentiment isn't uncommon among students. Every day, there are students like Elbakhadaoui who casually walk in when they're threatened by being late. However, there are also students who get frustrated when the reason for their lateness is out of their hands
One of those students is senior Israt Jahan, who has ideas on how SEPTA can change to prevent lateness.
"I think what SEPTA should do is wait in the station for at least two minutes." Stated Jahan, who takes the trolley to 22nd Street. "They literally wait in the station for thirty seconds. I don't even get down the stairs. Like I'm on the escalator going 'oh my god the train is there' then it'll leave." Jahan continued, "and I want more trains."
So do students really care about being late?
"I think some of them do," Said School Secretary Ms. Diane. "Because they're calling and saying they're stuck on a train or there's a problem with Septa. I do believe that there is a majority of students that do care when they're late."
Senior advisor and teacher Mr. Enzweiller also found that students cared. However, he disagreed with enforcing the lateness policy in advisory.
"No, I'm planning to change it." Stated Mr. Enzweiller. "I'm getting more kids showing up late, lately. Senioritis is starting to kick in."
Ms. Diane went on to explain that the issue wasn't just late students, but chronically late students.
"Sometimes it is unavoidable to be late. I have been late myself. But students that have chronic lateness it makes a lot of work, not only for me but for the advisors and for first period teachers. So if they could just try to be a lot more conscientious about getting to it would be a lot better for everybody."
Ms. Diane explained that the easiest way to prevent lateness is to change your routine. "Things happen, we understand that, but I know if it would have been something that would've occurred a lot then I would have to make sure that got on the earlier bus to make sure that I won't be late and be in that predicament a lot."