Jayla Wright
Copy Editor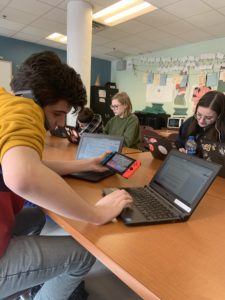 With social media so prevalent in our lives, it's hard for a typical high schooler going throughout our day without it. We can't even remember a time without Snapchat or Instagram.
In 2018, adults have spent around 10 to 11 hours a day looking at their screen. Teenagers spend around 9. However, there are some teenagers who buck the trend prefer to stay off social media.
Sophomore Jon Rodebaugh and Junior Emmet Tsai-McCarthy are two such students —  a couple of the seemingly few people completely absent from social media. Neither of them has anything against it. They simply consider social media engagement as unnecessary for their lives.
Living separately from social media can cause cultural norms to clash with social media frequenters. Everyday actions such as mindlessly scrolling through apps such as Instagram or Twitter, can have an unintended impact on the interactions happening in real life.
"Sometimes when I'm trying to have a conversation, they're just flipping through their phones looking through social media" stated Rodebaugh. "it feels like I'm being ignored."
Rodebaugh continued, "I feel like if you're with a group of people you shouldn't have your phone out unless you're showing someone or it comes up in conversation."
This splitting of attention between technology and our companions has gradually become the norm, but Rodebaugh sees an impact.
"I feel like our relationship building and our communication as people has been struggling because of social media," Rodebaugh explained "Because we have social media I feel like we get the mindset that we don't need to communicate with people."
Tsai-McCarthy has a different idea on social media's effect on people.,
"I don't think it's something that people should really worry about too much. I just don't think it's a huge issue," he explained. "it's not as big as like 'oh it's turning all of our next generations into mindless beings.' I don't think that's going to happen."
"People like to say it's making us more antisocial though I've seen quite the opposite because of social media, they have connected more," he explained. "And yeah, people can get antisocial and again, it just depends on the person. There also benefits to social media."
There's a ton of debate on whether social media is harmful or good, however, most would agree we would benefit from checking our screen time and behavior online.