By Staff Writer Melissa Alvarez
Science Leadership Academy's center city location on 22nd and Arch Street has a lease, and time's a tickin'.  In 2016 the lease for the building will be up and the question we're all starting to ask is, where's SLA going?
Principal Chris Lehmann let SLA Media in on the scoop about the possibilities.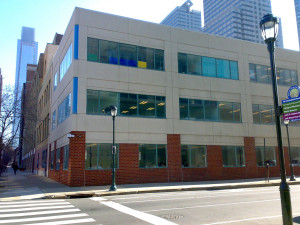 "I thought we would just have class in the street" he chuckled, "Well we have 3 possibilities on the table right now. Us actually buying the building is one of them."
When asked about SLA possibly being co-located with another school, he explained that this is not an option he likes, nor will it be considered.
We questioned him about if he had any preference to the options being considered at this time.
"I have no preference to the 3 options we have right now. I do want to stay accessible in center city, especially because of our Wednesdays at the Franklin."
All SLA freshman walk to the Franklin Institute every wednesday and are given the opportunity to take mini-courses there for the entire year. This being part of the partnership the school has with them, which also includes a membership for each student as well.
We asked sophomore Marcus Cruz on his thoughts about the building's lease being up the year he graduates.
"I don't think it's fair because by the time we get to graduate, the rest of them get to move. It's not fair because we don't get that experience."
When questioned about if he liked the current building or not he said, "In this building we don't have a full gym, like a court. I've never even seen the music room in here, and we just don't have a lot of space."
As the time gets closer, we will soon find out the fate of SLA's center city location. Will we stay or will we be moving to a new location? If you have an opinion you'd like to share with us, comment below!